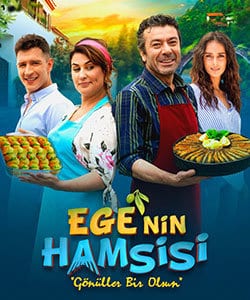 Details
Original Title:
Egenin Hamsisi
English Title:
Two Parts One Love
Also Known As:
Genre:
Family
,
Romance
,
Comedy
Episodes:
23
Broadcast Network:
TRT 1
Broadcast Period:
July 16, 2018 – January 1, 2019
Production Company:
Kopru Film
Director:
Mustafa Sevki Dogan
,
Ufuk Hakan Eren
Screen Writer:
Tayfun Guneyer
,
Yildirim Beyazit
,
Filiz Ekinci
Synopsis
Melahat (Iclal Aydin) is a friendly and restless middle aged woman who lives in a beautiful Aegean town named Sigacik. After her husband passed away years ago, she has worked so hard to raise her son Deniz (Uraz Kaygilaroglu) and her daughter Derya (Buse Meral). Melahat owns a small restaurant where she cooks Aegean dishes. Soon after she opens her restaurant, it has become a popular destination for the locals and tourists.
Melahat aims to extend her restaurant through buying the shop just across to her restaurant. By this way, she wants to work together with her son who has recently finished his military service.
Melahat organizes an event to celebrate the return of her son Deniz from the military service. At the same time, she pays the deposit for the shop which is just across to her restaurant. Everything seems to go in order. However, something unexpected happens and the life of Melahat turns upside down.

On the other hand, Sevket (Ugur Cavusoglu) is an ill-tempered man who lives in Rize which is a beautiful city in Black Sea region. After his wife passed away years ago, Sevket lives together with her daughter Zeynep (Bestemsu Ozdemir), his son Omer (Celal Ozturk) and his sister Fikret (Asuman Dabak).
Sevket is so proud of her daughter Zeynep as she has just graduated from a college as an architect. After living apart for a while, Sevket now thinks that all his family would come together as before and live happily afterwards. However, his life changes dramatically when he learns that his lovely daughter gets a job offer right after her graduation.
Zeynep wants to accept the offered job which is located at the Aegean region. At first, her family opposes this idea but soon later, Zeynep manages to convince her family to move into Aegean region. Sevket, who is very fond of his daughter, does not want to live apart from his daughter and decides to move into Aegean region together with Zeynep. Even though it is too difficult to leave their hometown behind and start a new life in a new place, Sevket is determined to stay beside his children all the time and give them support.
Sevket and his family move into Sigacik where Melahat and her family live. The lives of these two families change all of a sudden. Sevket opens a restaurant across Melahat's restaurant and starts to cook dishes special to Black Sea region. And a war begins!
Melahat becomes too angry when she learns that another person rents the shop which is just across to her restaurant. Her dream to extend her restaurant comes to end. At the same time, the restaurant owner Sevket causes a big chaos in Sigacik which is known for calmness.
Melahat and Sevket become two big enemies and fight each other every day. Meanwhile, Deniz and Zeynep start to work in the same workplace and get closer to each other. Despite big differences in their backgrounds, Deniz and Zeynep fall in love without knowing how impossible this love can turn out to be.
Two Parts One Love (Egenin Hamsisi) tv series story is about family relations with a touch of emotional and entertaining elements. Will Melahat start to get along with Sevket as time passes? Will Sevket and his family manage to get used to their new life in Agean region? Will Zeynep and Deniz manage to stand for all the obstacles in front of their ways?
Two Parts One Love Cast
Iclal Aydin as Melahat Cinar
Ugur Cavusoglu as Sevket Gerginoglu
Uraz Kaygilaroglu as Deniz Cinar
Bestemsu Ozdemir as Zeynep Gerginoglu
Asuman Dabak as Fikret Gerginoglu
Haldun Boysan as Esref Uzum
Eser Eyupoglu as Dursun Dursunoglu
Utku Ates as Sinan
Ugur Demirpehlivan as Sevim Uzum
Hakan Bilgin as Nuri Pekyaman
Bengi Ozturk as Hatce Kasapoglu
Mustafa Sen as Ibo Kasapoglu
Cem Cucenoglu as Bekir Kuru
Ceyda Saltadal as Eda Uzum Kuru
Buse Meral as Derya Cinar
Celal Ozturk as Omer Gerginoglu
Eylul Demirpehlivan as Zehra
Kemal Zeydan as Vedat Tasdemir
Ali Akdal as Ahmet Tutuncu
Busra Senol as Firuzan Aydin
Muharrem Bayrak as Mercan
Selahattin Oz as Sadi Parlak
Ilayda Yildirim as Hale Kasapoglu
Ozan Cura as Kerem Uzum
Emir Ali Dogrul as Esrefcan Kuru
Aysa Kasap as Ipek Parlak
Berke Acar as Mert Parlak
External Links
Official Site: https://www.trt1.com.tr/diziler/egenin-hamsisi
English Wikipedia:
Imdb:
You Might Also Like
Beuatiful Villager (Guzel Koylu)
Two Families (Iki Aile)
Gallery
Trailer (with English Subtitle)
Two Parts One Love (Ege'nin Hamsisi) Tv Series Trailer (Eng Sub)