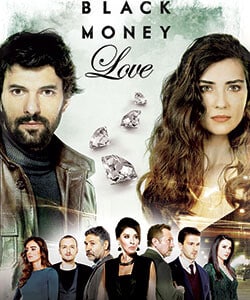 Details
Original Title: Kara Para Ask
English Title: Black Money Love
Also Known As: Dirty Money & Love, Kala Paisa Pyar, Amor & Dinero, Love and money, العشق الأسود, Dragoste de contrabandă, Amor y dinero, Amor de contrabando, Pul va gul ishqi
Genre: Drama, Romance, Action, Detective
Episodes: 54
Broadcast Network: ATV
Broadcast Period: March 12, 2014 – July 15, 2015
Production Company: Ay Yapim
Director: Ahmet Katiksiz
Screen Writer: Sema Ergenekon, Eylem Canpolat
Synopsis
Omer (Engin Akyurek) is a young man who works at organized crime branch in Van (the city in the Eastern part of Turkey). He is an idealist police officer who has chosen this occupation after his father was killed years ago yet his murder case could not be solved.
Omer wants to do his best so that no other crime cases remain unsolved. That's why, he even postpones his engagement in order to fulfill his recent assignment. Upon being successful, he is granted with a success award and one month leave from the workplace. As a vocation, Omer immediately goes to Istanbul where his family and his fiancée live.

On the other hand, Elif (Tuba Buyukustun) is a successful designer who works at jewelry business. She lives happily in Italy apart from her wealthy family, mother Zerrin (Nebahat Cehre), father Ahmet (Aytac Arman), sisters Nilufer (Bestemsu Ozdemir) and Asli (Hazal Turesan). Elif goes to Istanbul where her family lives in order to celebrate her birthday with them.
The lives of these two persons cross because of a murder. Omer loses his beloved fiancée while Elif loses her father in the same car. They try to understand why these two persons are in the same car, how they know each other and why they are killed. Soon after, they realize that this murder case is related to diamonds.
Omer finds one diamond in his fiancée's room and one diamond in the car where dead bodies are found. Meanwhile, Elif has been asked to bring diamonds if she wants to save her little sister who is kidnapped by mafia members. At this situation, Omer and Elif have nothing to do but to act together.
In black money love (kara para ask) tv series story, you will explore the lives of Elif and Omer, who are two strangers but are forced to share the same fate by losing their loved ones. Will Elif and Omer manage to find the truth behind the murder case? Will Elif save her family from the diamond mafia?
Black Money Love Tv Series Cast
Additional Cast Members
Burak Tamdogan as Huseyin Demir
Saygin Soysal as Fatih Dundar (Metin)
Hazal Turesan as Asli Denizer
Guler Okten as Elvan Demir
Bedia Ener as Fatma Andac
Ilkin Tufekci as Pelin Serter
Ahmet Tansu Tasanlar as Arda Cakir
Ali Yorenc as Mert Dundar
Elif Inci as Melike Demir
Isil Yucesoy as Nedret
Deniz Barut as Pinar
Kerimhan Duman as Can
Damla Colbay as Demet Demir
Aytac Arman as Ahmet Denizer
Serkan Kuru as Taner
Dilek Serbest as Svetlana / Sevim
Alper Turedi as Ali Amir
Nihat Altinkaya as Serhat
External Links
Imdb: Imdb – Black Money Love
Wikipedia: Wikipedia – Kara Para Ask
Official Site: Broadcast Network
Youtube Channel: Youtube – @karaparaask
You Might Also Like
The End (Son)
20 Minutes (20 Dakika)
Black Money Love (Kara Para Ask) Turkish Drama Relationship Chart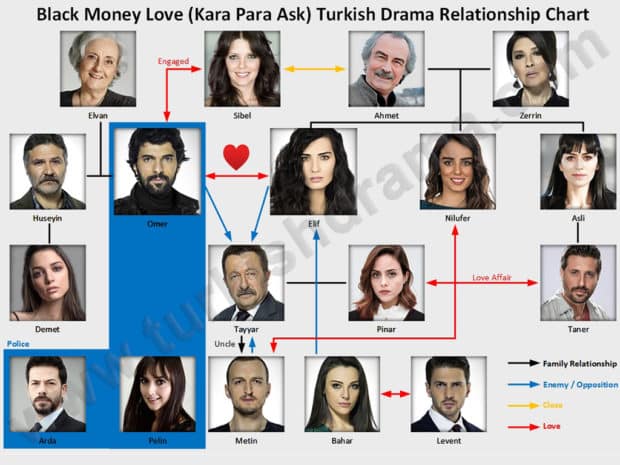 Black Money Love (Kara Para Ask) Turkish Series Trailer (with English Subtitle)
Kara Para Aşk - Black Money Love | Promo