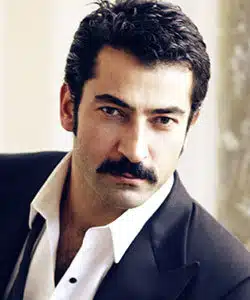 Profile
Name: Kenan Imirzalioglu
Birthdate: June 18, 1974
Birthplace: Ankara, Turkey
Height: 191 cm
Eye Color: Brown
Hair Color: Black
Education: Yildiz Technical University – Mathematics (Yildiz Teknik Universitesi Matematik)
Talent Agency:
Spouse: Sinem Kobal (m. 2016-present)
Biography: Kenan Imirzalioglu comes from Uzun Hassan's state who was a sultan of Aq Qoyunlu dynasty. In 1997, Kenan Imirzalioglu joined Best Model of Turkey and had a 1st ranking. He also joined the Best Model of the World in 1997 and became the best model of the world. He became the first Turkish man who won the Best Model of the World.
Kenan Imirzalioglu Tv Series / Movies
1998 – 2002 Crazy Heart (Deli Yurek) (as Yusuf Miroglu)
2001 – Crazy Heart Bumerang Hell (Deli Yürek: Bumerang Cehennemi) (as Yusuf Miroglu) (Movie)
2001 – Hayat Baglari (as Kenan)
2003 – 2005 Twilight (Alacakaranlik) (as Ferit Caglayan)
2004 – Heads or Tails (Yazi Tura) (as Hayalet Cevher) (Movie)
2005 – 2007 Bitter Life (Aci Hayat) (as Mehmet Kosovali)
2005 – Zagara ve Digerleri (as Police)
2006 – The Last Ottoman: Knockout Ali (Son Osmanli Yandim Ali) (as Ali) (Movie)
2007 – For Love and Honor (Kabadayi) (as Devran) (Movie)
2009 – Dragon Trap (Ejder Kapani) (as Akrep Celal) (Movie)
2009 – 2011 Ezel (as Ezel Bayraktar)
2012 – Long Story (Uzun Hikaye) (as Ali) (Movie)
2012 – 2015 Karadayi (as Mahir Kara)
2017 – Cingoz Recai (as Recai) (Movie)
2018 – Mehmed Bir Cihan Fatihi (as II. Mehmed)
2020 – Alef (as Kemal)
Awards
2012 – RTGD – (Radio Television Press Association) (Radyo Televisyon Gazeteler Dernegi) – Best Actor of the Year (Karadayi) – Yilin Erkek Oyuncusu (Karadayi)
2012 – Local and Regional Television Foundation (Yerel ve Bolgesel Televizyonlar Birligi YBTB) – The Most Successful Actor (Karadayi) – En Basarili Erkek Oyuncu (Karadayi)
2013 – Antalya Television Awards (Antalya Televizyon Odulleri) – Best Actor (Drama Series) (Karadayi) – En Basarili Erkek Oyuncu (Karadayi)
2013 – Altin Kelebek Odulleri (Golden Butterfly Awards) – Best Actor (Karadayi) – En Iyi Erkek Oyuncu (Karadayi)
2013 – Magazine Casusu – Best Actor (Karadayi) – En Iyi Erkek Oyuncu (Karadayi)
2013 – 4th Ayakli Gazette TV Awards (4. Ayakli Gazete Televizyon Odulleri) – Best Actor (Karadayi) – En Iyi Erkek Oyuncu (Karadayi)
2013 – Quality Awards (Kalite Odulleri)- Best Actor (Karadayi) – En Iyi Erkek Oyuncu (Karadayi)
2013 – Golden Lion Awards (Altin Aslan Odulleri) – Best Actor (Karadayi) – En Iyi Erkek Oyuncu (Karadayi)
2013 – Bilkent Television Awards (Bilkent Televizyon Odulleri) – Best Actor (Karadayi) – En Iyi Erkek Oyuncu (Karadayi)
2013 – GQ of the Year – Actor of the Year (Karadayi) – Yilin Erkek Oyuncusu (Karadayi)
2014 – 5th Ayakli Gazette TV Awards (5. Ayakli Gazete Televizyon Odulleri) – Best Actor (Karadayi) – En Iyi Erkek Oyuncu (Karadayi)
2014 – Engelsiz Yasam Vakfi Awards – Best Actor (Karadayi) – En Iyi Erkek Oyuncu (Karadayi)
2014 – Yildiz Teknik University Awards (Yildiz Teknik Universitesi Odulleri) – Best Actor (Karadayi) – En Iyi Erkek Oyuncu (Karadayi)
2015 – Mersin Golden Palm Awards (Mersin Altin Palmiye Odulleri) – Best Actor (Karadayi) – En Iyi Erkek Oyuncu (Karadayi)
2015 – 11th Communication Awards Istanbul Aydin University (11.Iletisim Odulleri İstanbul Aydin Universitesi) – Best Actor (Karadayi) – En Iyi Erkek Oyuncu (Karadayi)
2015 – Golden Objective Awards (Altin Objektif Odulleri) – Best Actor (Karadayi) – En Iyi Erkek Oyuncu (Karadayi)
Social
Instagram:
Twitter:
Facebook:
E-Mail:
Trivia
Body Type:
Skills:
Star Sign: Gemini
Blood Type:
Hobbies:
Weight: 80 kg