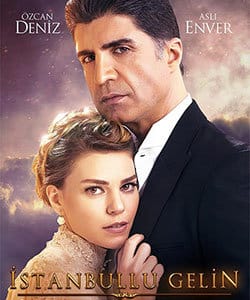 Details
Original Title: Istanbullu Gelin
English Title: Bride of Istanbul
Also Known As:
Genre: Romance
Episodes: 14+
Broadcast Network: Star TV
Broadcast Period: March 3, 2017–
Production Company: O3 Media
Director: Zeynep Gunay Tan and Deniz Kolos
Screen Writer: Tesrik-i Mesai
Synopsis
Bride of Istanbul Turkish drama is based on a true story.
Faruk (Ozcan Deniz) is a rich, charismatic and successful businessman who lives in Bursa (a city located at the south of Istanbul). He is the eldest son of the wealthy Boran family that is well-known and respected all over Bursa. His mother Esma (Ipek Bilgin) has a dominant personality who wants to control everyone at the house. Esma not only controls the servants at the house but also wants to say the final word regarding the lives of her 4 sons: Faruk (Ozcan Deniz), Fikret (Salih Bademci), Osman (Guven Murat Akpinar), Murat (Berkay Hardal).
Faruk is strong enough to oppose his mother's wishes when it is needed. Fikret, on the other hand, wants to please her mother all the time in order to win her approval. He is jealous of his brother Faruk who is the head of the family business for being the eldest and the most favorite son of the family. Osman, on the other hand, is very silent, introvert and fragile. He is keen on books and does not want to be involved in family business. Lastly, Murat is the youngest son of the family who is extrovert, womanizer and carefree.

Esma lives happily together with her 4 sons. Now, she wishes to see the marriage of her eldest son Faruk and become a grandmother. The wife of Faruk would be the lady of the house after Esma and maintain the long-lasting family culture. For this reason, Esma wants to have a perfect bride for this role. She has someone in her mind as her prospective bride: Ipek (Dilara Aksuyek) who is the daughter of another well-known family in Bursa.
Ipek is a beautiful girl who has been in love with Faruk for a long time but does not reveal her feelings. She is a perfect bride in a lot of ways: she has good manners, seems to be silent, mature and respectful, and is willing to obey the rules of the house set by Esma. Ipek knows Esma's intention towards her and does not refrain from showing her pleasure for being the bride of Faruk.
However, the life of Boran family changes dramatically and the Boran mansion that has been standing for almost 4 hundred years is shaken with the appearance of Suheyla (Asli Enver).
Suheyla (Asli Enver) is a young and beautiful girl who has grown up without a mother and father. She has a modest life in Istanbul and lives together with her aunt. Suheyla is a violinist, performing live at some night clubs and taking part at some commercials. She is joyful and at the same time, proud.
When Faruk comes to Istanbul for a business, out of pure coincidence, Faruk and Suheyla meet. The two get attracted by each other at first sight but Suheyla does not want to be "the toy" of this rich womanizer. She tries to be far away from Faruk but she cannot resist the destiny that brings them together.
Faruk and Suheyla fall in love with each other and understand that they cannot live apart. Without her mother's approval, Faruk brings Suheyla to Bursa as his bride. The house is shaken by this surprise. The arrival of Suheyla, the bride from Istanbul, changes everything.
The love between Suheyla and Faruk has to face with mother Esma's anger, the rules of the house, and at the same time, different family backgrounds. Suheyla who is grown up in a big city likes her freedom and finds it hard to adjust living in a smaller city. Faruk who is devoted to his family and traditions finds himself in middle of his wife and his mother.
In bride of istanbul tv series story, you will explore a true love story between Faruk and Suheyla that has to pass examinations from strong mother-in-law, sneaky sister-in-law, and differences due to big city-small city conflict. Will Esma eventually admit Suheyla as her bride? Will Suheyla manage to adopt her new life in a smaller city? How will bride from Istanbul change the lives of Boran family? Will Faruk continue to love Suheyla and endure all the obstacles on their way?
Cast
Ozcan Deniz as Faruk Boran
Asli Enver as Sureyya
Ipek Bilgin as Esma
Salih Bademci as Fikret
Dilara Aksuyek as Ipek
Firat Tanis as Adem
Ozge Borak as Begum
Guven Murat Akpinar as Osman
Berkay Hardal as Murat
Nergis Corakci as Kiymet
Hakan Altiner as Sahap
Neslihan Yeldan as Senem
Pelinsu Pir as Nurgul
Hayal Koseoglu as Zeynep
Semra Dincer as Reyhan
Fatih Koyunoglu as Akif
Ahmet Sabri Ozmener as Mustafa
Eren Balkan as Gulistan
Muharrem Turkseven as Nazif
Nilay Erdonmez as Asiye
Hira Koyuncuoglu as Bade
Characters
Faruk Boran (Ozcan Deniz): Faruk is a successful businessman who comes from a wealthy family in Bursa. He manages his family business, Bus Company. He travels to Istanbul very often but at the same time, he is devoted to the traditions. He had a relationship with a young woman when he was younger but had to end it due to his mother. For this reason, he does not want to let her mother get involved in his love life.
Sureyya (Asli Enver): Sureyya is a young, beautiful, easy-going and stubborn girl who does not have a stable job. She is very helpful towards everyone and has modest life before she meets Faruk. She finds it hard to get along well with her mother-in-law.
Esma (Ipek Bilgin): Esma is the head of Boran family and has final word for everything after her husband's death. She dedicates her life to her 4 sons. She dreams to find a perfect bride for her eldest son, Faruk. She just finds the perfect bride but is shocked when Faruk comes to the house with Sureyya. Esma believes that Sureyya is her enemy, like a snake that wants to poison her. For this reason, she tries to send Sureyya back to Istanbul where she has come from.
Fikret (Salih Bademci): Fikret is the second eldest son of the Boran family. Fikret is always at the shadow of his elder brother Faruk and tries to do his best to show his potential all the time. After his brother Faruk gets married to Sureyya, Fikret finds to opportunity to attain Ipek whom he has been in love with for a long time. His weak character is adversely affected by the fact that Ipek never responds to his love. He takes important decisions that are bad for his family.
Ipek (Dilara Aksuyek): Ipek becomes the wife of Fikret after Faruk gets married to Sureyya. She falls in love with Faruk for a long time but decides to get married to Fikret in order to enter the Boran family. She does not love Fikret and never responds to his love. Her only aim is to collaborate with Esma and send Sureyya back to Istanbul and eventually, become the lady of the Boran family after Esma.
Adem (Firat Tanis): Adem plans to get his revenge from the Boran family. He vows to get everything that Boran family owns. He is the illegitimate son of the Boran family but has been raised with difficulty far away from the wealth of Boran family.
Begum (Ozge Borak): Begum is the ex-girlfriend of Faruk. Even though Begum and Faruk wanted to get married, they could not do it due to Faruk's mother. Begum has left everthing behind and had a new life apart from Faruk. Years later, after Faruk gets married to Sureyya, Begum returns to Bursa with a surprise. She has a son from Faruk.
Osman (Guven Murat Akpinar): Osman is the third eldest son of the Boran family. He is honest, introvert and fragile. He is secretly in love with Sureyya but never discloses his feelings towards her. He tries to forget his unrequited love and decides to get married to the woman whom Esma has consent with. He always supports Sureyya in the Boran family.
Murat (Berkay Hardal): Murat is the youngest son of Boran family. He is extrovert, carefree and womanizer. He does not care about business and wants to live how he wants.
Kiymet (Nergis Corakci): Kiymet is the mother of Ipek and a close friend of Esma. She has a dominant character at home but cannot overcome the passion of her daughter. She actually does not approve the marriage of her daughter with Fikret because she knows that her daughter has been in love with Faruk. She still continues to be her daughter's side all the time.
Senem (Neslihan Yeldan): Senem is the aunt of Sureyya. She spends all her time in front of the TV. She does not watch her language and says frankly what she wants to say. After Sureyya becomes a bride in Bursa, she also joins her also starts to live in Bursa and open a new page in her life.
Bade (Hira Koyuncuoglu): Bade is one of the servants in the Boran mansion. She has platonic love towards Murat and for this reason, she faces with many obstacles. These challenges in her life will make her more fragile and weak.
External Links
Official Site: http://www.startv.com.tr/dizi/istanbullu-gelin/
English Wikipedia:
Imdb: http://www.imdb.com/title/tt6462806/
You Might Also Like
Vine Mansion (Asmali Konak)
Zerda
Bride of Istanbul – First Trailer
Season 1 Trailer (Eng Sub)
Bride of Istanbul – Season 2 Trailer (Eng Sub)