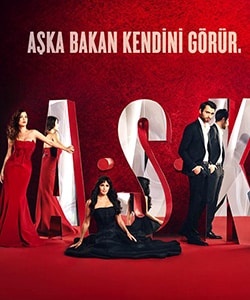 Details
Original Title: A.S.K.
English Title: L.O.V.E
Also Known As: Love, Ishq
Genre: Romance, Drama
Episodes: 13
Broadcast Network: Kanal D
Broadcast Period: September 25, 2013 – December 30, 2013
Production Company: Gold Film
Director: Omur Atay
Screen Writer: Evren Sit, Serdar Soydan
Filming Locations: Istanbul, Turkey
Synopsis
Azra (Hazal Kaya) is a young and beautiful girl who works as a tennis teacher at a famous sports center. She barely supports her mother and her little sister.
Azra is in love with Kerem (Hakan Kurtas) who is a swimming teacher. They met in the Sports Academy and have never been apart since.
The only precious thing they have is their pure love. However, they often feel the effects of being penniless. Especially Azra, who is an ambitious girl, often dreams about rich lifestyle, beautiful shore houses, expensive cars, and so on.

On the other hand, Azra's mother does not want her daughter to see Kerem because she does not want her child to have a poor life just like herself.
For this reason, Azra secretly meets Kerem and does not say anything about her relationship.
When Kerem becomes a swimming teacher at the sports center where Azra works, they continue to see each other secretly.
This is because, according to the policies of the sport center, the personnel are not allowed to have a boyfriend/ girlfriend relationship with each other. That's why; Azra and Kerem do not reveal that they are in love with each other.
Although Azra and Kerem love each other to death, their lives dramatically change when Sebnem (Asli Tandogan) enters their lives.
Sebnem is a young and beautiful girl who belongs to a rich family. She is one of Azra's rich students at the sport center.
When Sebnem meets Kerem, she is attracted immediately without knowing that he has a girlfriend. In order to be close to him, Sebnem becomes willing to be the student of Kerem although she is afraid of swimming.
One day, incidentally, Azra learns the truth about Sebnem who suffers from leukemia and has a life at most 6 months.
When Azra learns that fact, she behaves as if she does not know anything.
This is because; she plans to use Sebnem to realize her dreams. She wants to sacrifice her love to reach her goals: become rich and have lots of money. Azra wants Kerem to get married to Sebnem. She believes that they will a have happy ending after 6 months, when Sebnem dies.
In l.o.v.e. (a.s.k.) tv series story, you will explore what is love for different people. Will Azra really sacrifice her love, Kerem? Will Sebnem eventually learn the plans of Azra and Kerem? What will happen if Sebnem learn the truth about Kerem and his true feelings?
L.O.V.E. (A.S.K.) Tv Series Cast
Hazal Kaya as Azra
Hakan Kurtas as Kerem
Asli Tandogan as Sebnem
Kaan Urgancioglu as Can
Nebahat Cehre as Neslihan
Sevtap Ozaltun as Ece
Erkan Can as Riza
Nihal Koldas as Sirma
Tugay Mercan as Abdurrahman
Gunes Emir as Melis
Elit Iscan as Semra
Servet Pandur as Muzeyyen
Gokay Muftuoglu as Firat
External Links
Official Site: https://www.kanald.com.tr/ask
English Wikipedia:
Imdb:
You Might Also Like
The Girl Named Feriha (Adini Feriha Koydum)
Forbidden Love (Ask-i Memnu)