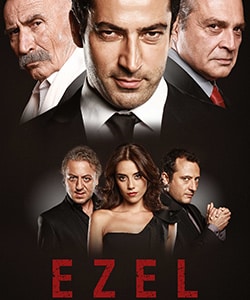 Details
Original Title: Ezel
English Title: Ezel
Also Known As: Bosszú mindhalálig (Hungary)
Genre: Action, Crime, Drama
Episodes: 71
Broadcast Network: ATV, Show TV
Broadcast Period: September 28, 2009 – June 21, 2011
Production Company: Ay Yapim
Director: Uluc Bayraktar
Screen Writer: Kerem Deren, Pinar Bulut
Filming Locations: Istanbul, Turkey
Synopsis
Omer (Ismail Filiz) works as a motor mechanic and has a comfortable lower middle-class life. He totally trusts his best friends, Ali (Baris Falay) and Cengiz (Yigit Ozsener). When he meets Eysan (Cansu Dere), he falls in love with her. After returning from military duty, he proposes to Eysan. However, the day after he proposes to Eysan, he is blamed for robbery and murder, while his friends Ali, Cengiz and his love Eysan gets away with millions of dollars ungratefully.
Betrayed by his trusted friends and the woman he loves, Omer ends up in jail where he meets Ramiz (Tuncel Kurtiz) who will change his life forever.

Ramiz is a powerful mafia type figure who sees Omer like one of his sons, and gives him some protection. After 8 years in prison, with the help of Ramiz, Omer escapes the jail by using a riot in the prison.
Everybody believes that Omer has died in the middle of the chaos but in reality he undergoes an extreme plastic surgery. He gets his face fixed and also changes his voice and his body so that he can take revenge.
Omer creates a new identity and acquaints himself as Ezel (eternity in Turkish). He returns as Ezel (Kenan Imirzalioglu) to exact his vengeance.
In Ezel tv series story, you will explore a revenge of a simple boy who becomes a rich man exceptionally skilled at gambling, reading people and fighting after the betrayal of his trusted friends and the woman he loves. Will anybody recognize that Ezel is actually Omer in disguise? Will revenge fill the emptiness in Ezel's hearth? Will Ezel forget about his past and live the rest of his life peacefully?
Ezel Tv Series Cast
Awards
2010 – 37. Golden Butterfly Awards: Best Actor (Kenan Imirzalioglu)
2010 – 37. Golden Butterfly Awards: Best Drama
2010 – Galatasaray University: Best Drama
2010 – Galatasaray University: Best Actor (Kenan Imirzalioglu)
2010 – Bahcesehir University: Best Drama
2010 – Yildiz Technical University: Best Drama
2010 – Istanbul Technical University: Best Drama
2010 – Kabataslilar Association: Best Drama
2010 – C21/FRAPA Format: Best Screenplay
2012 – Seoul International Drama Awards: Best Drama Series
Main Characters' Other Popular Dramas
Kenan Imirzalioglu: Crazy Hearth (Deliyurek), Bitter Life (Aci Hayat)
Cansu Dere: Coming Home (Sila)
External Links
Official Site: Broadcast Network
English Wikipedia:
Imdb:
Facebook: Facebook – ayyapimezeltv
Youtube Channel: Youtube – @ezel
You Might Also Like
Sleepers – Game of Silence (Suskunlar)
Bitter Life (Aci Hayat)
Crazy Hearth (Deli yurek)
Ezel Tv Series Trailer (with English Subtitle)
Ezel Tv Series Trailer (English Subtitle)