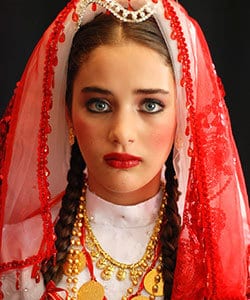 Details
Original Title: Kucuk Gelin
English Title: Child Bride
Also Known As: Zahra, The Little Bride, Kawin Paksa
Genre: Drama
Episodes: 92
Broadcast Network: STV
Broadcast Period: September 8, 2013 – November 8, 2015
Production Company: Bosphorus Film Makers
Director: Ozan Uzunoglu
Screen Writer: Erhan Ciplak
Filming Locations: Istanbul, Turkey
Synopsis
Zehra (Cagla Simsek) is a 14-year old promising girl who is very successful at her school. However, her life turns upside down when she is forced to get married to a young guy from a rich family. Zehra wants to continue her education and does not want to leave her little sister and her parents. However, her father uses the excuse of traditions and beats her daughter to death. Zehra has nothing to do but to get married to the guy whom she has never seen before.

After marriage, Zehra starts to live with her new family in the big mansion. She lives with her husband, mother-in-law, aunt-in-law, brother-in-law, and their children altogether in that big mansion. Since Zehra is a young bride in that family, she suffers from the emotional pain. Zehra does not want to continue this pain anymore. For this reason, she decides to leave everything behind. With the help of her school teacher Melek (Gozde Mukavelat), Zehra tries to run away from her faith.
In child bride (kucuk gelin) tv series, you will explore a tragic lives of child brides, their fears and their problems. Child marriages are still a bleeding wound in Turkey. Child bride Zehra aims to show tragedy in detail.
Child Bride (Kucuk Gelin) Tv Series Cast
Cagla Simsek as Zehra
Gozde Mukavelat as Melek (episodes 1-40)
Bengi Ozturk as Melek (episodes 41-92)
Orhan Simsek as Azad (episodes 1-62)
Baris Cakmak as Azad (episodes 63-81)
Ufuk Sen as Devran
Ali Cakalgoz as Kadim
Sema Aybark as Nujin
Arif Selcuk as Cemal
Ece Okay as Behiye
Melda Arat as Zumrut
Devrim Atmaca as Fatma
Burcu Adal Kos as Gulsum
Helin M. Cal as Elif
Sabri Ozmener as Rasit
Onurcan Kirsan as Ferman
Yagmur Kur as Dicle
Gokhan Sahin as Ali
Burcu Yuce as Berfin
Tayfun Sav as Sami
Ece Baykal as Canan
Yusuf Eksi as Ibrahim
Elif Verit as Mercan
Melissa Yildirimer as Leyla
Hilmi Erdem as Hilmi
Savas Bayindir as Siyar
Merce Cavuran as Havin
Mujgan Gonul as Zeynep
Meltem Pamirtan as Aysen
Koray Nizamoglu as Yusuf
Eyup Kan as Harun
Kayra Zabci as Ezma
Vakkas Kahraman as Mahmut
External Links
Official Site:
English Wikipedia:
Imdb: Imdb
You Might Also Like
Life Goes On (Hayat Devam Ediyor)