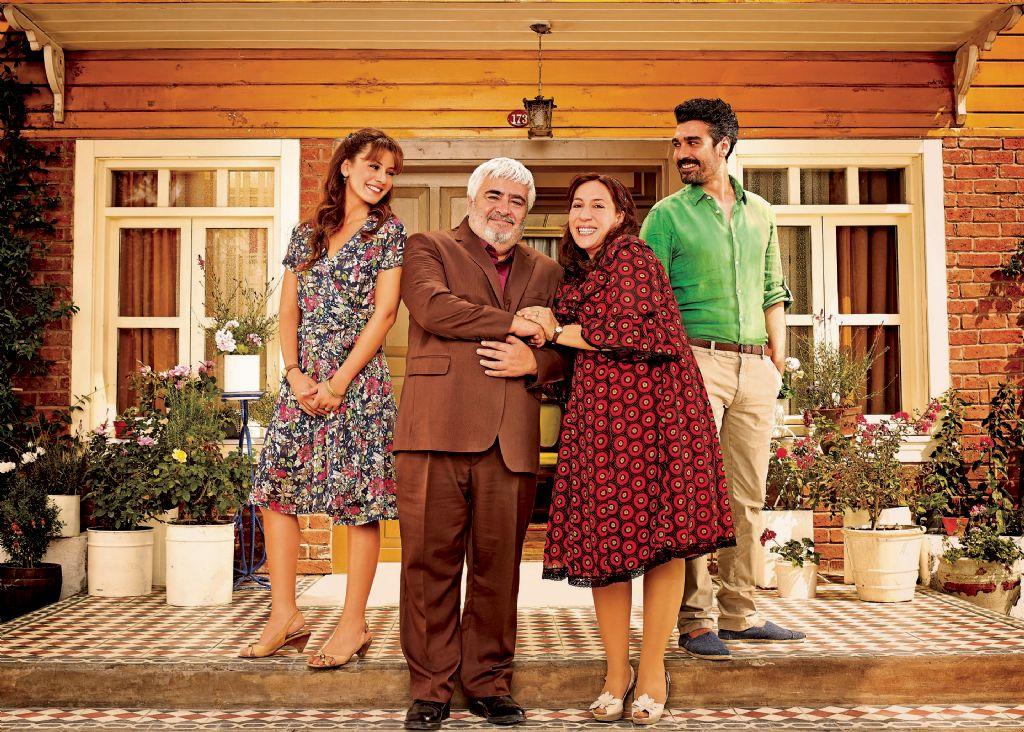 Details
Original Title: Aramizda Kalsin
English Title: Between You and Me
Also Known As: Lets Keep it As a Secret
Genre: Comedy, Romance, Family Relations
Episodes: 52
Broadcast Network: Star TV
Broadcast Period: September 19, 2013 – January 22, 2015
Production Company: TMC Film
Director: Guzide Balci
Screen Writer: Selin Tunc
Synopsis
Yadigar (Gokce Bahadir) is a tough, stubborn, forceful, young and beautiful woman. She lives in Antep which is a city in the east of Turkey. One day, she discovers that her husband has an affair with another woman for a long time. After learning this betrayal, she wants to leave her husband behind and goes to her father's house with her two children. Since she does not have a job, she has no choice but to live in her father's house and endure the emotional pain of grudging charity of her step mother.
Although Yadigar's father forces her to reunite with her husband, Yadigar does not want to forgive her husband. At the same time, Yadigar knows that she cannot live forever with the support of other people. At this moment, she finds the letter of her mother who passed away a long time ago. In that letter, it was written that Yadigar's mother gave something to her best friend Husne (Binnur Kaya) on behalf of her daughter in order to save her from hard times. Whenever Yadigar reads the letter, she decides to go to Istanbul with her two children and ask for her mother's inheritance from Husne.
Yadigar's arrival to Istanbul not only opens a new door for her but also changes the lives of Husne and Husne's family. Husne lives happily in a big house in Istanbul with her husband (Ugur Yucel), her two daughters Arife (Gamze Karaduman) and Ceylan (Ecem Calik), her two sister-in-laws Saliha (Hikmet Kormukcu) and Elmas (Bilge Sen), and her servicewoman Hatcik (Ayca Damgaci). Also, the story becomes more complicated when Husne's brother Civan (Caner Cindoruk) who has been living in Italy as a cook comes to Istanbul and starts to live in that big house.
In this story, you will explore a romance, comedy, family relations, hope, anger, conflict and betrayal at the same time. Will Yadigar find happiness after leaving her husband behind and starting to live in Istanbul? How will Yadigar's arrival change the lives of Bahattin and Husne? Will Bahattin and Husne disclose the secret that affect the life of Yadigar?
Cast
Ugur Yucel as Bahattin
Binnur Kaya as Husne
Gokce Bahadir as Yadigar
Caner Cindoruk as Civan
Gamze Karaduman as Arife
Ecem Calik as Ceylan
Mert Kurdal as Ali
Ferit Aktug as Mahir
Hikmet Kormukcu as Saliha
Bilge Sen as Elmas
Ayca Damgaci as Hatcik.
External Links
Imdb: http://www.imdb.com/title/tt3315852/
Official Site: http://www.startv.com.tr/dizi/aramizda-kalsin
You Might Also Like
My Dear Family (Canim Ailem)
Second Spring (Ikinci Bahar)