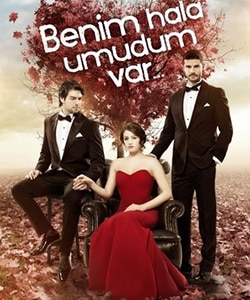 Details
Original Title: Benim Hala Umudum Var
English Title: I Still Have Hope
Also Known As: Waves of Hope, Jeenay Ki Wajah, Ummeed
Genre: Romance, Drama
Episodes: 33
Broadcast Network: Star Tv, Fox Tv
Broadcast Period: July 1, 2013 – April 25, 2014
Production Company: Gold Film
Director: Nisan Akman
Screen Writer: Deniz Akcay, Onur Ugras
Filming Locations: Istanbul, Turkey
Synopsis
Umut (Gizem Karaca) is a young and beautiful girl who works as a manicurist in one of the well-known coiffeurs. She is so pure and naive. She lives with her mother, her step father, two step sisters and two step brothers. In this family, Umut only cares for her mother Zeliha (Nergis Corakci) and her little brother.
The life of Umut is just like Cinderella. Her step sisters are always jealous of her. They don't do any house chores such as cleaning, cooking and etc. Generally Umut and her mother do the house chores. Also, Umut is constantly abused by her step father Zafer (Ali Erkazan) and her step brother Musa (Burak Altay). Zafer is the head of the family but he still asks for Umut's salary to buy alcohol. On the other hand, Musa is a conservative guy who does not want her sisters to have any boyfriend.

In this family, Umut still tries not to lose her hope. One day her life changes substantially. Out of pure coincidence, she comes across Ozan (Sukru Ozyildiz) who is rich, young, handsome, and womanizer. They fall in love each other at first sight. However, Ozan has to tell a lie about his true identity. Since Umut belongs to a poor family and has some prejudices towards rich people, Ozan also says that he is a poor guy in order not to lose his first love. He also starts to work at the coiffeur where Umut works. They both conceal their relationship from their families. Umut cannot disclose her boyfriend because her step father and step brother are very conservative. On the other hand, Ozan cannot disclose his girlfriend because his family has a rich life.
As their relationship develops, Ozan tries to disclose that he is a son of a rich family but never manages to do that. He tries to save Umut from her family and wants to do everything to make her happy. He loves her to death and does not want to lose her. The more he loves her, the harder it becomes to disclose all the truth.
In i still have hope (benim hala umudum var) tv series story, you will explore a love triangle which is surrounded with a class difference between rich and poor families. You will see the difficult and pure love of Umut and Ozan who are made for each other, yet from different worlds. You will watch a modern Cinderella story. How long Ozan be pretending to be poor? What will happen when Umut learns that her first love Ozan comes from a rich family in reality? Will Umut and Ozan live happily without considering their family backgrounds? Will Umut and Ozan overcome all the obstacles in front of their ways?
I Still Have Hope (Benim Hala Umudum Var) Tv Series Cast
Gizem Karaca as Umut Ozden / Korkmaz
Sukru Ozyildiz as Ozan Korkmaz
Berk Oktay as Hakan Demirer
Lacin Ceylan as Asude
Ali Erkazan as Zafer
Nergis Corakci as Zeliha
Sermin Hurmeric as Emel
Levent Ozdilek as Ragip
Burak Altay as Musa
Belgin Erdogan as Hale
Ipek Elban as Duygu
Buse Arslan as Beril
Savas Alp Basar as Ruzgar Demirer
Pinar Goktas as Melis
External Links
Official Site: Broadcast Network
English Wikipedia:
Imdb:
You Might Also Like
Fame (Sohret)
An Istanbul Fairytale (Bir Istanbul Masali)
I Still Have Hope (Benim Hala Umudum Var) Tv Series Trailer (with English Subtitle)
Benim Hala Umudum Var Yakında Star'da