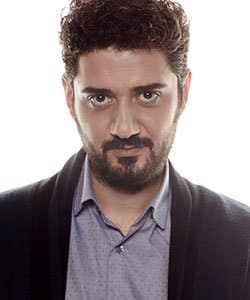 Profile
Name: Cihan Ercan
Birthdate: May 25, 1984
Birthplace: Ankara, Turkey
Height: 180 cm
Eye Color: Black
Hair Color: Black
Education: Ankara University Faculty of Languages, History, and Geography – Theatre (Ankara Universitesi Dil Tarih Cografya Fakultesi Tiyatro Bolumu)
Talent Agency: Sogen Film Muzik Produksiyon
Spouse:
Biography: Cihan Ercan was born in 25 May 1984 in Ankara. He was a licensed player of handball and fencing. After Cihan Ercan started to be interested in acting, he gave up sports. He started his acting career with supporting roles in various tv series and movies like Crime File (Suc Dosyasi) and One Life is not Enough (Bir Omur Yetmez). He became very successful with his role in popular Turkish drama Leyla and Mecnun.

Cihan Ercan Tv Series / Movies
2006 – Ah Su Cocuklar
2007 – Crime File (Suc Dosyasi)
2009 – Neighbor Village's Insane Person (Komsu Koyun Delisi)
2011 – One Life is not Enough (Bir Omur Yetmez)
2012 – Leyla and Mecnun (Leyla ile Mecnun) (as Hidayet)
2013 – I Missed You Too (Ben de Ozledim) (as Cihan Ercan)
2013 – Groom Side: Testosterone (Erkek Tarafi: Testosteron) (as Seckin) (Movie)
2014 – Telling Tales (Bana Masal Anlatma) (as Kubilay) (Movie)
2014 – Deliha (as Cemal) (Movie)
2015 – Kara Bela (as Efkan) (Movie)
2016 – Purrcheesi (Kacma Birader) (as Halil Tuncbilek) (Movie)
2016 – 2017 No: 309 (as Erol Sarihan)
2016 – Tough Row to Hoe (Cetin Ceviz) (as Ahmet) (Movie)
2017 – Salur Kazan: Accidental Hero (Salur Kazan: Zoraki Kahraman) (Movie)
2018 – Elflock (Arapsaci) (as Yusuf) (Movie)
2018 – Daydreamer (Erkenci Kus) (as Muzaffer Kaya / Zebercet)
2022 – Ask Cagirirsan Gelir (as Bugra) (Movie)
2022 – More Beautiful Than You (Senden Daha Guzel) (as Yasar)
Theatre Plays
2006 – Sersem Kocanin Kurnaz Karisi
2006 – Kesanli Ali Destani
2006 – Akilli Daha Akilli Daha Daha Akilli
2006 – Cikis Yok Land Cumhuriyeti
2006 – Belgelerle Kurtulus Savasi
2007 – Bir Karsilasma Bir Nedir?
Social
Instagram: Official Instagram Account
Twitter: Official Twitter Account
Facebook: Official Facebook Account
Youtube Channel: Official Youtube Channel
E-Mail:
Trivia
Body: 42
Skills: Solfege and Voice Training, Percussion Instruments, Stage Dances
Hobbies: Fencing, Licensed Handball (7 Years), Football, Basketball
Shoe Size: 42
Languages: English (Intermediate)
Cihan Ercan Gallery