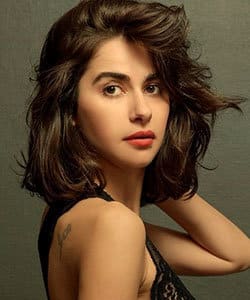 Profile
Name: Nesrin Cavadzade
Birthdate: July 30, 1982
Birthplace: Baku, Azerbaijan
Height: 168 cm
Eye Color: Brown
Hair Color: Brown
Education: Marmara University, Cinema and TV Department (Marmara Universitesi Sinema ve Televizyon Bolumu)
Talent Agency: Ahmet Koralturk Management
Spouse:
Biography: Nesrin Cavadzade was born in July 30, 1982 in Baku, Azerbaijan. She migrated to Istanbul, Turkey with her mother when she was 11 years old. She went to secondary school at Sisli Private Bilgi High School (Sisli Ozel Bilgi Lisesi). While she was going to high school, Nesrin Cavadzade joined into the theatre club and took part a theatre play named Turkmen Wedding (Turkmen Dugunu). She continued her education at Sisli Terakki High School. Nesrin Cavadzade also took acting lessons at Sahika Tekand Studio Oyunculari for 2 years. Nesrin Cavadzade knows Turkish, Russia, English and French.

Nesrin Cavadzade Tv Series / Movies
2007 – The Market: A Tale of Trade (Pazar: Bir Ticaret Masali) (Movie)
2007 – Drifters (Yersiz Yurtsuz) (as Suna)
2008 – Dilber's Eight Days (Dilber'in Sekiz Gunu) (as Dilber) (Movie)
2008 – My Marlon and Brando (Gitmek: Benim Marlon And Brandom) (as Derya) (Movie)
2009 – The Pain (Aci) (Movie)
2010 – Galaxy (Samanyolu) (as Melek)
2011 – 2012 The Girl With the Red Scarf (Al Yazmalim) (as Ayca)
2011 – To Better Days (Guzel Gunler Gorecegiz) (as Anna) (Movie)
2011 – There is Fire (Yangin Var) (Movie)
2012 – Cholera Street New World (Agir Roman Yeni Dunya) (as Kara Leyla)
2012 – Take a Breath (Derin Nefes Al) (as Nazli) (Movie)
2013 – Gorus Gunu Kadinlari (as Lale)
2014 – Song of My Mother (Annemin Sarkisi) (as Zeynep) (Movie)
2014 – The Lamb (Kuzu) (as Medine) (Movie)
2014 – Little Lord (Kucuk Aga) (as Basak)
2015 – Last Letter (Son Mektup) (as Nihal) (Movie)
2015 – Gallipoli A Hundred Years Seal (Canakkale Yuzyillik Muhur) (as Ayse)
2016 – Winter Sun (Kis Gunesi) (as Efruz)
2017 – Phi (Fi) (as Alara)
2017 – 2018 Our Story (Bizim Hikaye) (as Tulay Sertkaya)
2018 – El Desentierro (as Tirana) (Movie)
2019 – 2021 Forbidden Fruit (Yasak Elma) (as Sahika Ekinci)
2020 – Love Loves Coincidences 2 (Ask Tesadufleri Sever 2) (as Defne) (Movie)
2020 – Ethos (Bir Baskadir) (as Melisa)
2021 – 2022 Uc Kurus (as Bahar Yondel Caka)
Awards
2008 – 3. International Bursa Silk Road Film Festival (3.Uluslararasi Bursa Ipek Yolu Film Festivali) – Best Actress (Dilber's Eight Days) – En Iyi Kadin Oyuncu (Dilber'in Sekiz Gunu)
2009 – 20. Ankara Film Festival (20.Ankara Film Festivali) – Best Actress (Dilber's Eight Days) – En Iyi Kadin Oyuncu (Dilber'in Sekiz Gunu)
2011 – 48. International Golden Orange Film Festival (48. Uluslararasi Altin Portakal Film Festivali) – Best Actress in Supporting Role (To Better Days) – En Iyi Yardimci Kadin Oyuncu (Guzel Gunler Gorecegiz)
2012 – 23. Ankara Film Festival (23. Ankara Film Festivali) – Best Actress (There is Fire) – En Iyi Kadin Oyuncu (Yangin Var)
2012 – 17. Sadri Alisik Awards (17. Sadri Alisik Odulleri) – Best Actress (Comedy) (There is Fire) – En Iyi Kadin Oyuncu (Komedi) (Yangin Var)
2014 – 51. International Golden Orange Film Festival (51. Uluslararasi Altin Portakal Film Festivali) – Best Actress (The Lamb) – En Iyi Kadin Oyuncu (Kuzu)
Social
Instagram: Official Instagram Account
Twitter:
Facebook:
E-Mail:
Nesrin Cavadzade Gallery
Who is Nesrin Cavadzade
Nesrin Cavadzade Oriental
Nesrin Cavadzade Oriental