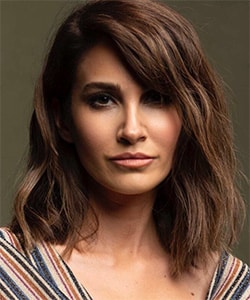 Profile
Name: Rojda Demirer
Birthdate: August 12, 1980
Birthplace: Ankara, Turkey
Height: 167 cm
Eye Color: Green
Hair Color: Brown
Education: Hacettepe University Ankara State Conservatory – Theatre (Hacettepe Universitesi Ankara Devlet Konservatuvari Tiyatro Bolumu)
Talent Agency: Abdullah Bulut Management
Spouse:
Biography: Rojda Demirer was born in 12 August 1980 in Ankara. Her father comes from Diyarbakir. While she was 9 years old, in 1988, she won the entrance exams of TRT Ankara Radio Children Time (TRT Ankara Radyosu Cocuk Saati) and started to take part in radio theatre. After then, she took part in TRT's children series, dubbing for movies, series and cartoons. She studied theatre at Hacettepe University during the period of 1997-2001. After graduation, Rojda Demirer started to work at Trabzon State Theatre during the period of 2003-2008. After then, she took part in various tv projects.
Rojda Demirer Tv Series / Movies
2002 – Unsent Letters (Gonderilmemis Mektuplar) (as Ceren) (Movie)
2003 – Ask Olsun (as Ebru)
2004 – Canim Benim (as Demet)
2004 – Aga Kizi (as Biricik)
2005 – Tadimiz Kacmasin (as Eda)
2006 – Candan Ote (as Gorkem)
2006 – Yasanmis Sehir Hikayeleri (as Zeynep)
2006 – Hisarbuselik (as Sema)
2007 – Sevgili Dunurum (as Ayperi)
2009 – 2010 Angels Bless You (Melekler Korusun) (as Esin Komurcu Tulek)
2010 – 2011 The Large Family (Genis Aile) (as Zeynep Meyveli)
2011 – 2012 Elde Var Hayat (as Elif)
2012 – Kaos: Orumcek Agi (as Meltem) (Movie)
2012 – 2013 Alev Alev (as Alev)
2014 – Yedikule Hayat Yokusu (as Sureyya / Sultan)
2015 – Emergency Love (Acil Ask Araniyor) (as Doctor Ayla)
2016 – Intersection (Kordugum) (as Neslihan)
2017 – His Name is Legend (Adi Efsane) (as Secil)
2018 – 2019 Crash (Carpisma) (as Belma)
2019 – The Large Family: Neighbor's Daughter (Genis Aile Komsu Kizi) (as Zeynep) (Movie)
2020 – Respect (Saygi) (as Hasret Yakar)
2021 – The Trusted (Marasli) (as Firuzan)
Awards
2003 – Golden Butterfly Wards (Altin Kelebek Odulleri) – Promising Actress (Unsent Letters) – Umut Vadeden Kadin Oyuncu (Gonderilmemis Mektuplar)
2010 – 2010th Ismail Cem Television Awards (2010. Ismail Cem Televizyon Odulleri) – The Best Actress in Supporting Role at Youth Tv Series (Abgels Bless You) – En Iyi Genclik Dizisi Yardimci Kadin Oyuncu (Melekler Korusun)
2011 – Yildiz Technical University Awards (Yildiz Teknik Universitesi) – Best Actress (The Large Family) – En Begenilen Kadin Dizi Oyuncusu (Genis Aile)
2011 – Kavram Education Institutions Awards (Kavram Egitim Kurumlari) – Best Actress (The Large Family) – En Iyi Kadin Oyuncu
Theatre Plays
1995 – Gazap Uzumleri
2003 – Kucuk Karabalik
2003 – Onikinci Gece
2004 – Ayyar Hamza: Ali Bey
Social
Instagram: https://www.instagram.com/rojdademirer__/
Twitter:
Facebook:
E-Mail: