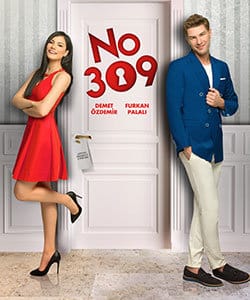 Details:
Original Title:
No: 309
English Title:
Room Number: 309
Also Known As:
Genre:
Comedy
,
Romance
Episodes:
65
Broadcast Network:
Fox Tv
Broadcast Period:
June 1, 2016 – October 25, 2017
Production Company:
Gold Film
Director:
Hasan Tolga Pulat
Screen Writer:
Asli Zengin
,
Banu Zengin
Synopsis
Onur (Furkan Palali) is a young and handsome guy who comes from a wealthy family. He is the heir of his family business together with his nephew, Erol (Cihan Ercan). Both Onur and Erol enjoy their lives and do not consider to get married soon. However, their future plans change completely when their grandfather dies. Their grandfather leaves a letter and states that whoever gets married first and has a baby would be eligible to inherit the family business.
After this letter, Onur and Erol find themselves in a different path. Their parents start to force them to find somebody and marry soon so that they could take all the inheritance. They consider potential daughter-in-laws from high society and arrange so many dates for their sons.

Lale (Demet Ozdemir), on the other hand, is a naive and beautiful girl who comes from an ordinary Turkish family. She works together with her mom and her sister nergis (Pelin Uluksar) at their flower shop and endures her mother's pressure for marriage. However, she cannot forget the betrayal of her ex-boyfriend.
Out of pure coincidence, Onur and Lale meet at the same place due to a blind date that is arranged by their mothers. Onur comes to the night club in order to meet a girl whom his mother has arranged. Meanwhile, Lale comes to the same place in order to meet a guy whose name is Onur as well. Accidentally, Lale sits Onur's table assuming that Onur is the person (a doctor) whom her mother has arranged. They become totally drunk and lose their control. They end up having a one night stand. In the morning, they find themselves at the same bed in the room number:309. They think they have not had sex and try to forget everything about that night.
3 months later, Onur gets engaged to Pelinsu (Irem Helvacioglu) even though he is not fall in love with her. Meanwhile, Lale finds out that she is pregnant. Lale is stuck in a difficult situation because she does not know anything about the father of her baby except his name. She and her family do not know what to do. Luckily, Lale sees the photo of Onur's engagement ceremony in the newspaper and after then, learns how to reach him. Under the pressure of her mother, Lale goes to Onur's workplace and explains that she is pregnant. However, Onur does not believe in Lale's sincerity and thinks that she has not disclosed this pregnancy for a long time so as to have a baby from a rich family. Neither Onur nor Lale wants to get married to each other. However, their parents think the opposite.
In room number: 309 (no: 309) tv series story, you will explore a love story between Lale and Onur who are forced to marry after their drunken one night stand resulting to an unexpected pregnancy. Will Lale and Onur who are forced to marry for the sake of their unborn baby find love with each other? Will their arranged marriage turn into a real love story?
Room Number: 309 (No: 309) Tv Series Cast
Demet Ozdemir as Lale
Furkan Palali as Onur
Irem Helvacioglu as Pelinsu
Fatih Ayhan as Dr. Onur
Sumru Yavrucak as Songul
Pelin Uluksar as Nergis
Murat Tavli as Samet
Fatma Toptas as Nilufer
Gokce Ozyol as Kurtulus
Cihan Ercan as Erol
Ceren Tasci as Filiz
Nursim Demir as Ismet
Ozlem Tokaslan as Yildiz
Suat Sungur as Fikret
Sevinc Erbulak as Betul
Beyti Engin as Sadi
Mehmet Cihan Ercan
External Links
Official Site: https://www.fox.com.tr/No-309/
English Wikipedia:
Imdb:
You Might Also Like
Love Once Again (Ask Yeniden)
Game of Love (Ask Oyunu)
Room Number: 309 (No: 309) Tv Series Trailer – 1
No: 309 1. Bölüm 1. Tanıtımı
Room Number: 309 (No: 309) Tv Series Trailer – 2
No: 309 1. Bölüm 2. Tanıtımı