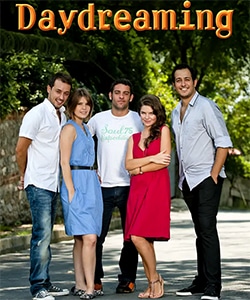 Details
Original Title: Kavak Yelleri
English Title: Daydreaming
Also Known As:
Genre: Youth, Comedy, Drama
Episodes: 175
Broadcast Network: Kanal D
Broadcast Period: May 31, 2007 – August 30, 2011
Production Company: Tims Production
Director: Kerem Cakiroglu
Screen Writer: Gokhan Horzum, Ekin Atalar, Yilmaz Sahin
Synopsis
Asli (Pelin Karahan), Deniz (Ibrahim Kendirci) and Efe (Daghan Kulegec) are close friends and go to the same high school. Asli is an idealistic and forceful girl who wants to go to the university after high school although her family faces with some financial difficulties. She tries to be strong all the time but deep inside she loves Deniz and wants to be loved.

Deniz has a wealthy life and likes to be a film director. On the other hand, Efe has a relax personality and doesn't care about anything. Even though they have different characters, they live happily in a small town but soon the arrival of a new girl, Mine (Asli Enver), changes everything forever.
Daydreaming (kavak yelleri) tv series story, you will explore four young people who eager to grow up with hurricanes inside. Additionally, you will see loves, failures, mistakes and friendships. How will the arrival of Mine affect the lives of Asli, Deniz, and Efe? Will they achieve their ultimate goal: pass the national university exam and get an university education? Will their friendship stand for all the rifts between them?
Daydreaming (Kavak Yelleri) Tv Series Cast
Pelin Karahan as Asli Zeybek
Daghan Kulegec as Efe Kaygisiz
Ibrahim Kendirci as Deniz Akca
Asli Enver as Mine Ergun
Sarp Apak as Guven Karakus
Ceren Moray as Su / Sultan
Cemil Buyukdogerli as Atakan
Emre Ertunc as Halil Donirio Kartoglu
Ceyda Ates as Leyla
Nurcan Eren as Hafize Zeybek
Munire Apaydin as Canan Zeybek
Ferit Aktug as Metin Kaygisiz
Sebnem Dogruer as Sukran Kaygisiz
Emir Benderlioglu as Burak Elibol
Tayfun Sav as Salih Kaygisiz
Erol Aksoy as Osman Seven
Ayten Uncuoglu as Ayse Seven
Ege Aydan as Murat Akca
Gulen Karaman as Leman Akca
Ozan Ozbektas as Yusuf
Didem Inselel as Gonul Kara Kaygisiz
Yilmaz Gruda as Hasmet
Levent Ozdilek as Cem Ergun
Isil Dayioglu as Betul Ergun
Yasemin Allen as Elena Karakus
Fusun Oztoprak as Sevgi Kara
Bora Corakay as Yilmaz Kara
Suat Usta as Bilal
Nil Gunal as Nurgul Karakus
Lale Mansur as Lerzan
Ata Guloglan as Cinar
External Links
Official Site: Broadcast Network
English Wikipedia:
Imdb:
You Might Also Like
Lost Dream (Genco)
Little Secrets (Kucuk Sirlar)
Daydreaming (Kavak Yelleri) Turkish Series Trailer (with English Subtitle)
Daydreaming (Kavak Yelleri) Turkish Series Trailer (Eng Sub)