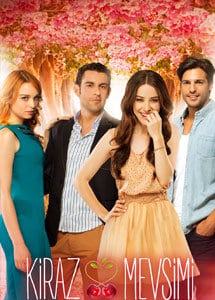 Details
Original Title: Kiraz Mevsimi
English Title: Cherry Season
Also Known As:
Genre: Romance, Comedy
Episodes: 59
Broadcast Network: Fox Tv
Broadcast Period: June 25, 2014 – November 28, 2015
Production Company: Boyut Film
Director: Mustafa Sevki Dogan
Screen Writer: Baykut Badem, Filiz Ekinci
Synopsis
Oyku (Ozge Gurel) is a young girl who has a modest life with her mother and little brother. She is a promising fashion designer who goes to university. She has been in love with Mete (Daghan Gulegec) from her childhood. Oyku never finds courage to disclose her feelings and keeps her love secret from Mete who is not aware of her existence.
Ayaz (Serkan Cayoglu), on the other hand, is a successful architect who works together with Mete. He is young, rich, handsome, arrogant, and womanizer. He never goes out with the same woman twice. Ayaz is also the son of the very famous fashion designer whom Oyku dreams to work for.

Out of pure coincidence, Oyku and Ayaz bump into each other. They try to get in the same taxi but because of their stubbornness, neither of them gets in the taxi. After this event, slowly and slowly, they get attached. Meanwhile, Mete falls in love with Seyma (Nilperi Sahinkaya) who is Oyku's friend from her neighborhood but in reality, she is jealous of her. When Oyku realizes that she has lost her childhood love before disclosing her true feelings, she steps back and tries to forget him. However, she finds herself in a strange situation when her love letter is sent to Mete's office and mistakenly received by Ayaz. Now, Oyku has to pretend that she is in love with Ayaz and has to play boyfriend-girlfriend with Ayaz. The fake love story starts to nourish new feelings.
In this story, you will explore a cute love story between two young people who do not get along with each other but have to be close each time. You will see a strange relationship of opposite characters. Will Oyku forget her childhood love and start to fall in love with Ayaz? Will Ayaz find true love after he has gone out with many girls? What will happen to Mete when he realize Oyku's innocence?
Cast
Ozge Gurel as Oyku
Serkan Cayoglu as Ayaz
Daghan Kulegec as Mete
Nihal Isiksacan as Burcu
Nilperi Sahinkaya as Seyma
Fatma Toptas as Sibel Korkmaz
Mehti Aras Aydin as Emre Yigit
Ozgur Cevik as Derin
External Links
Imdb:
Wikipedia:
Official Site: http://www.fox.com.tr/Kiraz-Mevsimi/
You Might Also Like: