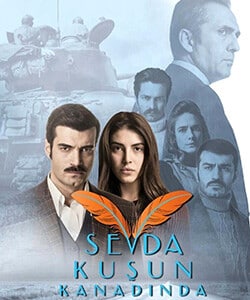 Details
Original Title: Sevda Kusun Kanadinda
English Title: On The Wings of Love
Also Known As:
Genre: Romance, Drama, Historical
Episodes: 31
Broadcast Network: TRT 1
Broadcast Period: 29 April 2016 – 28 March 2017
Production Company: Sonart Medya
Director: Ayhan Ozen
Screen Writer: Oktay Berber, Mustafa Burak Dogu, Selma Haciosmanoglu, Alp Emre
Filming Locations: Istanbul, Turkey
Synopsis
On The Wings of Love (Sevda Kusun Kanadinda) is a tragic love story that takes place in 1968-1970s in Turkey.
Tumay (Deniz Baysal/Sevtap Ozaltun) is a young woman who comes from a wealthy family. She is leftist and fights against capitalism while her family supports the opposite of her ideologies. Her father Zafer (Yavuz Bingol) is a high ranking police officer and tries to keep his daughter apart from political unrest in the country.

Tumay is a university student at Istanbul University Law School. She fights against capitalism together with her friends at the university. She is idealist, rebellious, and fearless. Despite her father's disapproval and her nephew Isik (Muge Boz)'s warnings, she often participates to political protests and tries her best to change the world.
Arif (Murat Unalmis), on the other hand, is a young man who comes from an ordinary rightist, conservative family. After his father was killed when he was a little child, he has been raised by his aunt (from his father's side). His aunt takes care of Arif as her own son and wants him to get married to her daughter Zeynep (Ergul Miray Sahin). Both Arif and Zeynep do not like this idea because Arif considers Zeynep as his sister while Zeynep is in love with Arif's close friend Mustafa (Derda Yasir Yenal).
Arif belongs to a conservative environment and lives according to Islamic rules and culture. After graduating from Islamic high school, he passes university exam successfully and is registered for Istanbul University Law School. He eventually fulfills his dream of studying at the law school in order to take the revenge of his father.
Tumay and Arif come across for the first time at a protest against American officer's visit for a Turkish mosque. Arif tries to prevent violent acts of protestors in order to protect children around. When the police arrives, Tumay is arrested for being involved in the protest while Arif is brought to the police station as a witness. These two young people support conflicting ideologies and do not get along well with each other from the start. However, they meet again at the university and their destinies intersect out of pure coincidence.
Even though Arif and Tumay come from different family backgrounds and different ideologies, they come across to each other again and again. Arif does not want to be involved in political conflicts but no matter how hard he tries he gets drawn into political conflicts. The story becomes more complicated when Arif and Tumay fall in love with each other as time passes.
On The Wings of Love (Sevda Kusun Kanadinda) tv series story is about two young people Arif and Tumay who are in love even though they support conflicting ideologies. Will Arif manage to take the revenge of his father? Will Tumay continue to be involved in political protests? Will Arif and Tumay get along well with each other? Will Tumay get used to conservative life style of Arif?
On The Wings of Love (Sevda Kusun Kanadinda) Tv Series Cast
External Links
Official Site: https://www.trt1.com.tr/arsiv/sevda-kusun-kanadinda
English Wikipedia:
Imdb:
Social
Instagram: https://www.instagram.com/skkresmi/
Twitter: https://twitter.com/skkresmi
Facebook: https://www.facebook.com/skkresmi
E-Mail:
You Might Also Like
Remember Darling (Hatirla Sevgili)
Peace Street (Huzur Sokagi)
On The Wings of Love (Sevda Kusun Kanadinda) Tv Series Trailer (with English Subtitle)
On The Wings of Love (Sevda Kusun Kanadinda) Tv Series Trailer (with English Subtitle)
On The Wings of Love Turkish Drama Trailer (with English Subtitle)
On The Wings of Love Tv Series Trailer