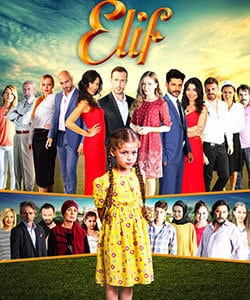 Details
Original Title: Elif
English Title: Elif
Also Known As:
Genre: Drama, Romance
Episodes: 940
Broadcast Network: Kanal 7
Broadcast Period: 15 September 2014 – 10 June 2019
Production Company: FremantleMedia
Director: Mahmut Kaptan and Betul Sevim
Screen Writer: Ruya Istanbul
Filming Locations: Istanbul, Turkey
Synopsis
Little girl Elif (Isabella Damla Guvenilir) lives with his mother Melek (Selin Sezgin), stepfather Veysel (Hasan Balliktas), her step-sister Zeynep (Gulcin Tuncok) and step-brother Murat (Batuhan Soncul). Elif is almost 5 years old but she is much more mature than her peers. She is very helpful and at the same time, strong enough to endure her stepfather's cruelty.
Veysel is a hopeless, violent gambler who tortures not only Melek but also little Elif. He plans to sell Elif to pay back his gambling debts. Out of pure coincidence, Melek discovers his husband's ill intention and finds out the passport on behalf of her daughter. In order to save her daughter, she eventually decides to call her long-lasting friend Ayse (Ozanay Alpkan) and asks for her assistance.
Ayse is a servant in the house of the wealthy Emiroglu family where Melek used to work. When Ayse arrives at Melek's house, she is so surprised to see her old friend in a desperate situation. She does not understand why Melek is married to this violent man but eventually, learns the secrets that were buried in the past.

While Melek was working as a servant at the house of Emiroglu family, she fell in love with the favorite son of the family, Kenan (Altug Seckiner). These two young persons loved each other to death but had to break up due to Kenan's evil mother who did not approve his son's choice. While expecting his baby, Melek had no choice but to leave Kenan and let him think that she had abandoned him. After Melek's disappearance, Kenan got married to Arzu (Cemre Melis Cinar) and had a daughter. And Melek started a new life, gave birth to Elif, and got married to a cruel man, Veysel.
Melek has never disclosed the secrets about her past so far. She has raised little Elif with difficulty without disclosing her true identity. However, she feels so desperate now, has nothing to do but to leave her daughter Elif in the care of her friend Ayse. Apart from her beloved mother, Elif starts to live at the house of Emiroglu family without knowing that her biological father is Kenan. Elif's arrival to Emiroglu family not only changes her life but also changed the lives of all the members of Emiroglu family.
Elif tv series story, you will explore the traumatic life of a little girl who tries to adjust her new life in luxury, apart from her beloved mother. Will Kenan learn the true identity of Elif? Will Melek eventually take her daughter and live happily together? How will Elif change the lives of Emiroglu family?
Elif Tv Series Cast
Isabella Damla Guvenilir as Elif Emiroglu (episodes 1-940)
Selin Sezgin as Melek Emiroglu (episodes 1-940)
Volkan Colpan as Kenan Emiroglu (episodes 187-361)
Cemre Melis Cinar as Arzu (episodes 1-560)
Emre Kivilcim as Selim (episodes 1-557)
Nevzat Can as Kerem (episodes 561-940)
Berna Keskin as Humeyra (episodes 561-940)
Nur Gurkan as Macide (episodes 561-940)
Seyda Bayram as Parla (episodes 561-940)
Yildiz Asyali as Rana (episodes 561-940)
Mediha Aydin as Yildiz (episodes 561-940)
Burcu Karakaya as Burcu (episodes 561-940)
Ugur Ozbagi as Teacher Safak (episodes 561-940)
Parla Senol as Leman (episodes 561-940)
Melis Gok as Julide (episodes 561-940)
Ece Balic as Teacher Asli (episodes 756-940)
Cenk Portul as Tarik Karaca (episodes 1-35)
Tevfik Yapici as Husnu Cakir (episodes 1-46)
Taliha Sonag as Serife Ercan (episodes 1-46)
Ozanay Alpkan as Ayse Dogan (episodes 1-84)
Zeynep Buse Kale as Seyda Coskun (episodes 1-176)
Ilker Gursoy as Melih Ozer (episodes 19-246)
Kivilcim Kaya as Efruz Baba (episodes 58-246)
Ayse Zekiye Backir as Gulnur (episodes 63-250)
Aysegul Yalciner as Kiraz (episodes 47-259)
Kerem Akdeniz as Sadik (episodes 47-259)
Abdullah Sekeroglu as Cemal (episodes 301-341)
Gurhan Gulbahar as Necdet Karapinar (episodes 187-352)
Zeynep Ogren as Tugce Emiroglu (episodes 1-361)
Hakan Bozyigit as Serdar Acar (episodes 184-401)
Beril Ada Yesil as Feride (episodes 189-434)
Pelin Caliskan as Pelin (episodes 1-451)
Sinem Akman as Feraye (episodes 58-468)
Tugba Duygu Erman as Asuman (episodes 301-503)
Dilara Yuzer as Gonca Tunc (episodes 1-528)
Umut Olcer as Erkut Sahin (episodes 21-530)
Emer Kivilcim as Selim Emiroglu (episodes 1-557)
Gulcin Tuncok as Zeynep Emiroglu (episodes 1-557)
Aysun Guven as Aliye Emiroglu (episodes 1-557)
Emre Caltili as Umit (episodes 362-558)
Batuhan Soncul as Murat Simsek (episodes 1-560)
Umut Ozkan as Yusuf Ustun (episodes 362-560)
Serhat Ustundag as Cevahir (episodes 362-560)
Cagla Simsek as Reyhan (episodes 561-624)
Hasan Balliktas as Veysel Simsek (episodes 1-741)
Derya Sen as Tulay (episodes 150-752)
Deniz Irem Morkoc as Inci (episodes 301-752)
Murat Prosciler as Tarik (episodes 561-755)
Ozge Yildirim as Vildan (episodes 561-755)
External Links
Official Site: https://www.kanal7.com/dizi/dizi-elif
English Wikipedia:
Imdb:
Social
Facebook: https://www.facebook.com/elifdizisi/
Twitter: https://twitter.com/elifdizisi
Instagram: https://www.instagram.com/elifdizisi/
Youtube: https://www.youtube.com/user/elifdizisi
You Might Also Like
Anne (Mother)
Elif Turkish Drama Trailer
Yeşil Yapım - Elif Show Reel