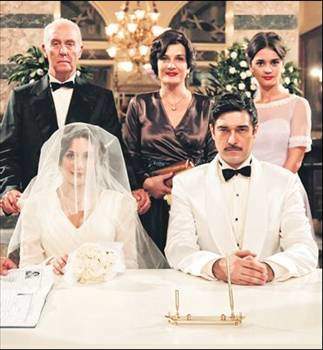 Details
Original Title: Bir Gunah Gibi
English Title: Like a Sin
Also Known As:
Genre: Romance, Drama, Historical
Episodes: 1+
Broadcast Network: Atv
Broadcast Period: October 6, 2011 –
Production Company: Most Production
Director: Gul Oguz
Screen Writer: Ayca Mutlugil, Nuray Uslu
Synopsis
Benan (Ozge Borak) is a cheerful and beautiful young girl who goes to the university and studies at Turkish literature. She gets her father recognition all the time. For this reason, her sister Figen (Hande Soral) is jealous of all the attention that Benan receives. She blames her sister for getting their father's love and therefore, tries anything to destroy Benan's life in every aspect.

One day, out of pure coincidence, Benan meets Suat (Serkan Altunorak) and they fall in love each other at first sight. Suat is a famous journalist who is not afraid of anything. He maintains his courage and tries to do his job although he is threatened frequently. Benan and Suat start a good relationship but after 3 months from their first date, Benan ends up getting married with Enver (Burak Hakki).
In this story, you will explore a triangle love story while discovering Turkey in 1940s. What is the reason behind Benan's marriage with Enver? Will Enver discover the truth about Benan and Suat? What will Suat do when he learns that his first love Benan and his close friend Enver have got married.
Cast
Burak Hakki as Enver
Ozge Borak as Benan
Serkan Altunorak as Suat
Hande Soral as Figen
Ilhan Sesen as Cihangir
External Links
Official Site: http://www.atv.com.tr/klasik-diziler/bir-gunah-gibi/hakkinda
English Wikipedia:
Imdb:
You Might Also Like
Hatirla Sevgili (Remember Darling)