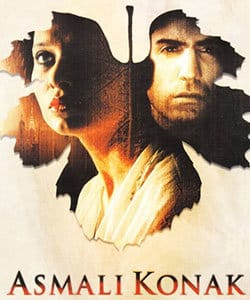 Details
Original Title: Asmali Konak
English Title: Vine Mansion
Also Known As: The Mansion with Vines (English), Ivy Mansion (English), Kasr Al Hob (Arabic)
Genre: Romance, Drama, Family
Episodes: 54
Broadcast Network: ATV
Broadcast Period: March 11, 2002 – June 16, 2003
Production Company: Ans Production
Director: Cagan Irmak
Screen Writer: Mahinur Ergun, Meral Okay
Filming Locations: Urgup/Nevsehir, Turkey
Synopsis
A wealthy Karadag family owns vast estates in Cappadocia in Middle Turkey. After the death of the family patriarch, the oldest son Seymen (Ozcan Deniz) takes the place of his father.
Seymen starts to bear all the responsibility of the family business on his shoulders. When Seymen goes to study in New York, he meets a beautiful girl, Bahar (Nurgul Yesilcay), a daughter of a family from Istanbul. They fall in love and decide to get married.
Bahar is an aspiring painter and has grown in a modern family unlike Seymen's family. Despite the difference between their families, they get married in Seymen's city of Nevsehir, Cappadocia.

They settle in the Vine Mansion and start to live with Seymen's mother Sumbul (Selda Alkor), brother Seyhan (Devrim Saltoglu) and two sisters. Soon, Bahar realizes that his new home is very different than hers and is astounded by the behaviors and mannerisms of the local people.
In this story you will explore love, jealousy, controversy, intrigue, power struggles and secrets revolving around the Vine Mansion while going to the enchanting world of Anatolia. Will Bahar be accustomed to her new world that is completely different from the one she has known? Will the love between Bahar and Seymen be a new eternal love story that is said from generations to generations? Will their love stand for the conflict between modernity and tradition?
Vine Mansion (Asmali Konak) Tv Series Cast
Ozcan Deniz as Seymen Karadag
Nurgul Yesilcay as Bahar Karadag
Selda Alkar as Sumbul Karadag
Ipek Tuzcuoglu as Dicle
Menderes Samancilar as Bekir Kirve Oztoprak
Ege Aydan as Yaman Bal
Selda Ozer as Dilara Karadag
Kenan Bal as Ali Hamzaoglu
Serif Sezer as Kadar Hamzaoglu
Yaman Tarcan as Haydar
Devrim Saltoglu as Seyhan Karadag
Aysun Metiner as Lale Karadag
Eylem Yildiz as Zeynep Karadag
Burak Altay as Salih Oztoprak
Efsun Alper as Ayse Melek
Recognitions
30. Golden Butterfly Awards (2002): Best Actress (Selda Alkor)
30. Golden Butterfly Awards (2002): Best Drama (Asmali Konak)
External Links
Official Site: https://www.atv.com.tr/klasik-diziler/asmali-konak/hakkinda
English Wikipedia:
Imdb:
You Might Also Like
Coming Home (Sila)
Zerda (Zerda)