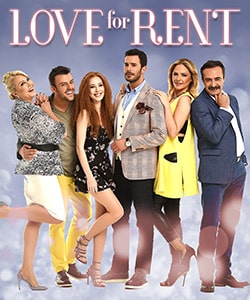 Details
Original Title: Kiralik Ask
English Title: Love for Rent
Also Known As: Tisti usodni poljub, Rental Love, Paskolinta Meilė, Rental Cinta, Te alquilo mi amor, Любов под наем, عشق اجاره‌ای (Eshgh-e-Ejarei), Zaljubljeni neženja, Prețul dragostei, Hob Lel Ajar, حب للإيجار (Ḥubb li-al-Ījār), Dashuri me qira
Genre: Romance, Comedy
Episodes: 69
Broadcast Network: Star Tv
Broadcast Period: June 19, 2015 – January 20, 2017
Production Company: Ortaks Yapim
Director: Metin Balekoglu
Screen Writer: Meric Acemi
Filming Locations: Istanbul, Turkey
Synopsis
Defne (Elcin Sangu) is a young and beautiful girl who works as a waitress and supports her family. Since her parents passed away, she lives peacefully together with her grandmother, brother, and little sister. Even though she does not have wealth, she never complains and becomes happy easily. However, her simple life gets too complicated and turns upside down when her brother is taken by mafia for his debt. In order to save his brother, Defne has to find 200,000 TL in 24 hours.
Omer (Baris Arduc), on the other hand, is a young CEO who has a well-known shoe store. He is silent, serious, introverted, and workaholic. When his parents passed away, he finds peace in a small shoemaker store where he starts to work as an apprentice. He learns how to make shoes and starts his own business through creating a well-known brand. Even though he comes from a wealthy family, he never wants his grandfather's money and tries to do anything by himself. He lives in a disciplined way as if he wants to forget his past: wakes up too early, goes boating, eats certain things in determined days, and works so hard until too late.

These two different worlds collide when Omer goes to the restaurant where Defne works. Omer wants to escape from an arranged date which is organized by his aunt-in-law Neriman (Nergis Kumbasar). Therefore, he pretends to be a boyfriend of Defne without getting Defne's approval. He even kisses Defne to persuade the girl whom he is supposed to get married if everything goes well. Omer successfully ruins this arranged date by using Defne but he does not know that all this scheme is seen by his aunt-in-law Neriman.
Neriman tries to find a way to make Omer gets married in six months in order to please her father-in-law who threatens to disinherit them. She wants to find a girl who can make Omer fall in love with her in six months. Neriman remembers Defne and proposes her an extraordinary offer. According to this offer, Defne will work as a personal assistant of Omer, she will look beautiful all day, she will do what Omer likes, and she will make him fall in love with her. Even though Defne does not want to be involved in this kind of game, she accepts the offer to save her brother. She takes the money, saves her brother, and starts her new challenging life.
In love for rent (kiralik ask) tv series story, you will find a strange love which starts with a game but then turns into reality. Will Defne manage to accomplish her mission successfully? Will Omer figure out the game and learn that Defne gets assistance from lots of people to make him fall in love with her? Will rental love become a real love eventually?
Love For Rent (Kiralik Ask) Tv Series Cast
Elcin Sangu as Defne Topal
Baris Arduc as Omer Iplikci
Salih Bademci as Sinan Karakaya
Sinem Ozturk as Yasemin Kayalar
Nergis Kumbasar as Neriman Iplikci
Levent Ulgen as Necmi Iplikci
Sanem Yeles as Nihan Topal
Onur Buyuktopcu as Koray Sargin
Mujde Uzman as Seda Berensel
Seckin Ozdemir as Pamir Marden
Melisa Senolsun as Sude Iplikci
Ferdi Merter as Hulusi Iplikci
Ayberk Atilla as Sadri Usta
Ismail Karagoz as Sukru
Hande Agaoglu as Mine
Hikmet Kormukcu as Turkan Topal
Melisa Giz Cengiz as Esra Topal
Kerem Firtina as Ismail
Osman Akca as Serdar Topal
Ragip Gulen as Zubeyir Tascalan
Selin Uzal as Derya
Simge Doganlar as Ece
Leyla Lydia Tugutlu as Iz
Ozlem Gezgin as Vedat
Baris Murat Yagci as Eymen
External Links
Official Site: https://www.startv.com.tr/video/arsiv/dizi/kiralik-ask
English Wikipedia:
Imdb:
You Might Also Like
Game of Love (Ask Oyunu)
Love Once Again (Ask Yeniden)
Love For Rent (Kiralik Ask) Tv Series Trailer (with English Subtitle)
Love For Rent (Kiralik Ask) Tv Series Trailer (English Subtitle)