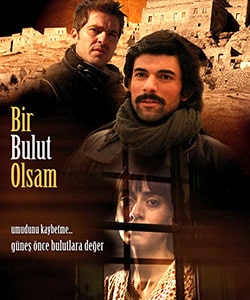 Details
Original Title: Bir Bulut Olsam
English Title: Beyond the Clouds
Also Known As: Da sam oblak, Bır bult bolsam, If Only I Were A Cloud
Genre: Drama, Romance
Episodes: 29
Broadcast Network: Kanal D
Broadcast Period: February 23, 2009 – December 24, 2009
Production Company: Tims Production
Director: Ulas Inan Inac
Screen Writer: Meral Okay
Filming Locations: Mardin, Turkey
Synopsis
Dr. Serdar (Engin Altan Duzyatan), who has worked in the health programs of the UN in the hot spots of the world for ten years, comes to Guzelyurt, a border village that is located in a mined area. He starts to work as doctor in this village at the same time tries to clean the mined area with volunteers.
Shortly after he is settled into his new home, he meets Narin (Melisa Sozen) who is a fragile girl and experiences a lot of oppression because of the diseased love of Mustafa (Engin Akyurek).

Dr. Serdar and his mother find out the tragedy Narin is facing and endeavor to save her from the torture she is experiencing. However, it will be very hard to convince Mustafa who loves Narin with a sick passion. Additionally, the story will be more complicated when Serdar and Narin draw closer.
In beyond the clouds (bir bulut olsam) tv series story, you will explore how the the life of fragile girl changes after being given the kiss of chance? Will Mustafa let Narin go? Will Serdar and Narin come together eventually?
Beyond the Clouds (Bir Bulut Olsam) Tv Series Cast
Melisa Sozen as Narin Bulut
Engin Altan Duzyatan as Dr. Serdar Batur
Engin Akyurek as Mustafa Bulut
Aslihan Gurbuz as Asiye Bulut
Sukran Ovali as Bahar – Elmas
Unal Silver as Aslan Bulut
Meral Okay as Inci Batur
Sema Kecik as Duriye Bulut
Ahmet Kural as Teacher Harun
Hulya Duyar as Fatma Bulut
Berfu Ongoren as Seher
Selim Bayraktar as Mahmut
Cahit Gok as Yasar Bulut
Burcu Binici as Gulengul Bulut
Haluk Comert as Kadir Bulut
Ebru Nil Aydin as Hatun Bulut
Suat Usta as Ibo
Murat Cemcir as Asil
Cuneyt Yilmaz as Muko
Ilkaye Dogan as Safiye
Hatice Sezer as Naciye
Lebib Gokhan as Murat
Duygu Zade as Zeynep
Kubra Tekin as Melek
Izzettin Atug as Ramo
Mertcan Yilmaz as Samet
Muhammed Aslan as Yusuf
Main Characters' Other Popular Dramas
Engin Akyurek: What is Fatmagul's Fault? (Fatmagul'un Sucu Ne?), The Foreign Groom (Yabanci Damat), Black Snake (Karayilan)
Melisa Sozen: Bicak Sirti, The Rose and the Thorn (Cemberimde Gul Oya)
Engin Altan Duzyatan: Grand Bazaar (Kapalicarsi), Resurrection Ertugrul (Dirilis Ertugrul)
External Links
Official Site: Broadcast Network
English Wikipedia: Wikipedia – Bir Bulut Olsam
Imdb: Imdb – Beyond the Clouds
You Might Also Like
Vine Mansion (Asmali Konak)
Beyond the Clouds (Bir Bulut Olsam) Tv Series Trailer (with English Subtitle)
Beyond the Clouds (Bir Bulut Olsam) Tv Series Trailer (Eng Sub)
Beyond the Clouds (Bir Bulut Olsam) Turkish Drama Trailer 2 (with English Subtitle)
Beyond the Clouds (Bir Bulut Olsam) Turkish Drama Trailer 2 (Eng Sub)