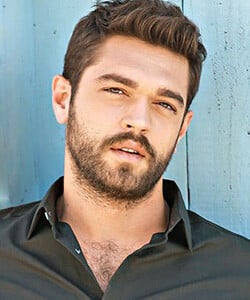 Profile
Name: Furkan Andic
Birthdate: April 4, 1990
Birthplace: Istanbul, Turkey
Height: 190 cm
Eye Color: Hazel
Hair Color: Brown
Education: Yeditepe University Faculty of Communication – Visual Communication and Design Department (Yeditepe Universitesi Gorsel Iletisim ve Tasarim Bolumu); Kiev Polytechnic University Economics
Talent Agency: Icon Talent Management
Spouse:
Biography: Furkan Andic was born in Istanbul, Turkey and his mother is Bosnian origin. After he graduated from high school in Turkey, he went to Ukraine to study economics at Kiev Polytechnic University. Furkan Andic played basketball professionally for 11 years. He made his debut with his role Mert at Turkish drama College Diary (Kolej Gunlugu).

Furkan Andic Tv Series / Movies
Awards
2016 – 43. Pantene Golden Butterfly Awards (43. Pantene Altin Kelebek Odulleri) – Best Couple (Sweet Revenge) – En Iyi Dizi Cifti (Pelin & Sinan) (Tatli Intikam)
2020 – 46. Pantene Golden Butterfly Awards (46. Pantene Altin Kelebek Odulleri) – Best Couple (Everywhere I Go) – En Iyi Dizi Cifti (Selin & Demir) (Her Yerde Sen)
Social
Instagram: @furkandic8
Twitter: @furkandic
Facebook:
Furkan Andic Gallery
Furkan Andic Interview (with English Subtitle)
(English Sub) Furkan Andıç, Q&A for beMAN Magazine (October 2017)