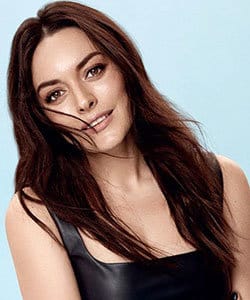 Profile
Name: Ezgi Mola
Birthdate: March 29, 1983
Birthplace: Istanbul, Turkey
Height: 163 cm
Eye Color: Brown
Hair Color: Brown
Education: Mujdat Gezen Art Center (Mujdat Gezen Sanat Merkezi)
Talent Agency: Id Iletisim
Spouse:
Biography: Ezgi Mola was born in Istanbul. She took acting lessons from Aydogan Temel for 2 years and Mujdat Gezen Art Center for 4 years. After then she founded a theatre and started her acting career with a teanage theatre play named Curuk Elma. She joined to BKM Studio in 2005. Ezgi Mola became very popular with her role as Feride in popular Turkish drama Dear Family (Canim Ailem) and then started to take part in various comedy movies.
Ezgi Mola Tv Series / Movies
2000 – Karate Can
2002 – Don't Forget Me (Unutma Beni) (as Seda)
2003 – Sultan Seat (Sultan Makami) (as Seda)
2004 – Invisible Man (Gorunmez Adam) (as Nagehan)
2004 – Quick Steps (Hizli Adimlar) (as Selen)
2004 – Joyful Faces (Sevincli Haller)
2005 – 2006 The Thief and The Cop (Hirsiz Polis) (as Gulay)
2005 – Magic Carpet Ride (Organize Isler) (Movie)
2006 – You Are the Woman of My Life (Hayatimin Kadinisin) (as Ahu) (Movie)
2006 – The Magician (Hokkabaz) (Movie)
2007 – Other Than You 2 (Senden Baska 2) (as Hayriye)
2008 – 2010 Dear Family (Canim Ailem) (as Feride)
2008 – Take It Easy (Kolay Gelsin) (as Kezo)
2008 – Class (Sinif) (as Esra)
2009 – Dragon Trap (Ejder Kapani) (Movie)
2010 – Stories from Southeast: First Homeland (Guneydogudan Oykuler Once Vatan) (as Ayse)
2010 – Farewell (Veda) (as Mrs. Latife) (Movie)
2011 – A Life Is Not Enough (Bir Omur Yetmez) (as Hazal Sertel)
2011 – Extremely Tragic Story of Celal Tan and His Family (Celal Tan ve Ailesinin Asiri Acikli Hikayesi) (as Julide) (Movie)
2011 – My Grandfather's People (Dedemin Insanlari) (as Fatma) (Movie)
2011 – I Don't Like Sundays at All (Pazarlari Hic Sevmem) (as Ayse) (Movie)
2012 – The Poor Road (Kotu Yol) (as Leman Aksular)
2013 – Celal and Ceren (Celal ile Ceren) (as Ceren) (Movie)
2013 – Thou Gild'st the Even (Sen Aydinlatirsin Geceyi) (as Cigdem) (Movie)
2013 – Cold (Soguk) (as Boncuk) (Movie)
2014 – Boss Wants a Happy Ending (Patron Mutlu Son Istiyor) (as Eylul) (Movie)
2015 – Husband Factor (Kocan Kadar Konus) (as Efsun) (Movie)
2016 – Husband Factor: Resurrection (Kocan Kadar Konus: Dirilis) (as Efsun) (Movie)
2017 – Maide's Gold Day (Maide'nin Altin Gunu) (as Maide) (Movie)
2017 – Season Issue (Iklim Meselesi)
2018 – Butterflies (Kelebekler) (as Sevtap) (Movie)
2018 – Lady Winsley (as Arzu) (Movie)
2018 – Aydede (as Rabia) (Movie)
2019 – Organize Isler Sazan Sarmali (as Lerzan Berrak) (Movie)
2020 – Jet Sosyete (as Ipek)
2020 – The Innocents (Masumlar Apartmani) (as Safiye)
Awards
2007 – 12. Sadri Alisik Awards (12. Sadri Alisik Odulleri) – Best Actress in Supporting Role (You Are the Woman of My Life) – En Iyi Yardimci Kadin Oyuncu (Hayatimin Kadinisin)
2010 – 1. Ismail Cem Television Awards (1. Ismail Cem Televizyon Odulleri) – Best Actress in Supporting Role (Dear Family Season 2) – En Iyi Yardimci Kadin Oyuncu (Canim Ailem 2. Sezon)
Social
Instagram: https://www.instagram.com/ezomola/
Twitter: https://twitter.com/ezgimola
Facebook: https://www.facebook.com/ezgimolaofficial
Youtube: https://www.youtube.com/channel/UCGOCBk0QYrzXh7BFq6iI_1w
E-Mail: [email protected]
Ezgi Mola Gallery
Ezgi Mola Magazine Cover
Ezgi Mola – Showreel (with English Subtitle)
Ezgi Mola - Showreel (Eng Sub)