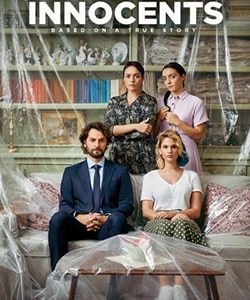 Details
Original Title: Masumlar Apartmani
English Title: House of Innocent People
Also Known As: The Innocents
Genre: Drama, Romance, Physiological
Episodes: 16+
Broadcast Network: TRT 1
Broadcast Period: 15 September 2020 –
Production Company: OGM Pictures
Director: Cagri Vila Vostuvali
Screen Writer: Deniz Madanoglu
Filming Locations: Istanbul, Turkey
Synopsis
This Turkish drama is an adaptation of popular novel named Madalyonun Ici by Gulseren Budaycioglu.
Inci (Farah Zeynep Abdullah) is a young girl who lives together with her brother and grandfather. After her mother left them years ago, Inci suffers from reliance problem and she tries her best not to leave anyone alone.
For this reason, Inci even cannot break up with her alcoholic boyfriend Uygar (Alper Saldiran).
Han (Birkan Sokullu), on the other hand, is a handsome and successful businessman who lives together with his father Hikmet, and his three sisters Safiye (Ezgi Mola), Gulben (Merve Dizdar), and Neriman.

Han dedicates his life for his family and does not have a private life apart from his work and family. His father suffers from diabetes, his little sister Neriman is asthma while his two big sisters have physiological problems.
Safiye (Ezgi Mola) and Gulben (Merve Dizdar) are cleaning freak, they even wash vegetables four times with a soap and do not let anybody into the kitchen to prevent germs.
Their cleaning addiction makes the lives of family members burdensome. Since they want to clean everything in a perfect way, they spend so much time even to prepare a simple dish.
Additionally, they use one of their apartments for hoarding. When they don't have enough time for cleaning the sheets or clothes in a perfect way, they just put them inside a garbage bag and put them into their vacant apartment until they find enough time for cleaning.
Han sacrifices his life for the sake of his family. He does not hang out with his friends and comes directly to the house after his work.
Han approaches his sisters in a gentle manner, does not judge them and tries his best to become supportive. He is the person who becomes a window for them to the world. Hence, his sisters do not want to lose their brother and do not want him to get married.
The lives of Inci and Han intersect out of pure coincidence. When they make a car accident, Han gets injured a little bit and Inci accompanies him at the hospital to compensate her fault.
After a long time, Han has a rare old time together with a beautiful woman. He eventually enjoys to be the one who is taken care of kindheartedly.
Inci and Han get along very well with each other. They think that they would not see each other in the future. Hence, they speak sincerely and have a conversation warmheartedly. While they are spending the night together at the hospital, they celebrate Inci's birthday and watch a movie together.
Since Han spends the night at the hospital and cannot tell his sisters that he has made a car accident, his sisters Safiye and Gulben assume that their brother is dating with someone.
While Safiye and Gulben are afraid of losing their brother and become unhappy, the father Hikmet becomes so happy for his son and wishes him to get out of this madhouse.
The next day, Han is discharged from the hospital. Even though Han and Inci get attracted from each other, they just could not make the next move.
Han hesitates to make the next move because he thinks that he cannot bring a bride for the madhouse where he lives. Therefore, they draw apart after saying goodbyes. However, their destinies intersect again and they come across to each other.
Out of pure coincidence, Inci and her family rent one of the apartments of Han's family without knowing the house owner. When they are about to move into their new apartment, they bumps into Safiye who does not approve the new comers to the house. Meanwhile, Han comes to the scene and meets Inci one more time.
The innocents (masumlar apartmani) tv series story is about Inci and her relationship with Han who deals with his two cleaning freak sisters. Will Inci get along well with Safiye and Gulben when she moves into her new apartment? Will Inci continue to love Han despite his cleaning freak sisters? Will Han manage to protect Inci from his family? Will Safiye and Gulben get healthy again and have a normal life?
The Innocents (Masumlar Apartmani) Tv Series Cast
External Links
Official Site: https://www.trt1.com.tr/diziler/masumlar-apartmani
English Wikipedia:
Imdb:
Social
Instagram: https://www.instagram.com/masumlarapartmani/
Twitter: https://twitter.com/masumlarapt
Facebook: https://www.facebook.com/masumlarapartmani/
Youtube Channel: https://www.youtube.com/c/masumlarapartmani/
You Might Also Like
The Red Room (Kirmizi Oda)
My Home (Dogdugun Ev Kaderindir)
The Innocents (Masumlar Apartmani) Turkish Drama Relationship Chart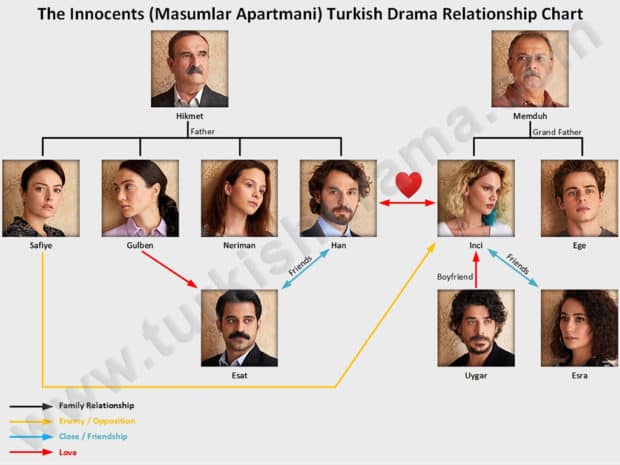 The Innocents (Masumlar Apartmani) Tv Series Trailer (with English Subtitle)