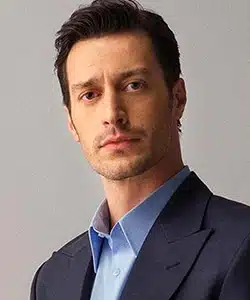 Profile
Name: Feyyaz Serifoglu
Birthdate: August 7, 1991
Birthplace: Rize, Turkey
Height: 175 cm
Eye Color: Brown
Hair Color: Brown
Education: Tekirdag Namik Kemal University – Textile Engineering (Tekirdag Namik Kemal Universitesi Tekstil Muhendisligi Bolumu)
Talent Agency: Mert Siliv Management
Spouse:
Biography: Feyyaz Serifoglu was born in Rize in 7 August 1991. He graduated from Tekirdag Namik Kemal University – Textile Engineering. He started his music career with the help of his grandmother and participated into The Voice of Turkey competition. After the competition, he started to be a vocalist of Turkish singer Ajda Pekkan. He continued his music career and worked at ENBE orchestra. He took part in various television commercials including Huawei in 2019. He launched his single named Gidene in 18 December 2019. He started his acting career with his role at Turkish series Red Room (Kirmizi Oda).

Feyyaz Serifoglu Tv Series / Movies
Awards
From an Interview with Feyyaz Serifoglu
What kind of family have you grown up?
I am the only boy of my family. I have two elder sisters. We are a typical Black Sea Region family. I have grown up in a family in which a love has been the most important thing. In this sense, I was a lucky boy.
How about your love affairs?
I have nobody in my life right now. I do not think anything other than my career. I am at the beginning of my career. I do not want to lose my concentration and at the same time, I don't think that I can do the things expected from me in a relationship properly. Thus, I have postponed love affairs for a while.
What does it mean to become handsome?
I don't think that there is an ugly person in the world. But, I think that anyone in this sector has a starlight in his/her eyes. It is not okey for me to stand out just because of my physical characteristics.
Social
Instagram: Official Instagram Account
Twitter:
Facebook:
Youtube Channel: Official Youtube Channel
E-Mail: Contact
Trivia
Body Type:
Skills:
Zodiac Sign: Leo
Blood Type:
Hobbies:
Weight: 73 Kg
Feyyaz Serifoglu Gallery
Gidene Song
Song of Can and Boncuk (The Red Room Tv Series – Episode 20)
Can ve Boncuk'un Şarkısı | Kırmızı Oda 20. Bölüm