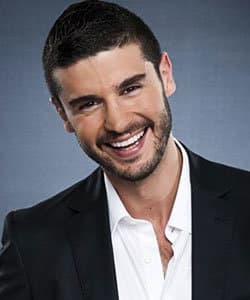 Profile
Name: Berk Oktay
Birthdate: October 28, 1982
Birthplace: Ankara, Turkey
Height: 191 cm
Eye Color: Brown
Hair Color: Black
Education: Ankara University Geology Engineering (Ankara Universitesi Jeoloji Muhendisligi)
Spouse: Merve Sarapcioglu (m. 2016)
Biography: Berk Oktay became Promising Model in 2001 Best Model competition and he became the Best Model in 2003 Best Model of Turkey competition. He worked as model during 2000- 2006. After 2004, he moved to Paris and worked for D&G, Ferre, Gucci and Prada in various cities such as Milano, Tokyo, Dubai, and Moskova. He made his debut on TV with his role as Levent in Sweet Curse Fadime (Tatli Bela Fadime).
Notable Works
2002 – He is a Soldier Now (O Simdi Asker) (Movie)
2007 – Sweet Curse Fadime (Tatli Bela Fadime) (as Levent)
2008 – Taxi Station (Akasya Duragi) (as Murat Aydin)
2009 – 2012 Back Streets (Arka Sokaklar) (as Sinan)
2010 – Passengers of Love (Umut Yolculari) (as Sinan)
2012 – In Flames (Alev Alev) (as Murat)
2013 – I Still Have a Hope (Benim Hala Umudum Var) (as Hakan Demirer)
2014 – Can't Run From Love (Asktan Kacilmaz) (as Berzan)
2015 – Relationship Status: It's Complicated (Iliski Durumu: Karisik) (as Can)
2016 – Relationship Status: Married (Iliski Durumu Evli) (as Can)
2017 – 2018 Warrior (Savasci) (as Kagan Bozok)
Social
Instagram:
Twitter: https://twitter.com/berkokty
Facebook:
Gallery
Berk Oktay (Warrior: Kagan Bozok)
Berk Oktay's last tv series: Warrior
Berk Oktay's last tv series