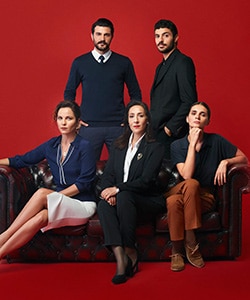 Details
Original Title: Kirmizi Oda
English Title: The Red Room
Also Known As: Själens röda rum
Genre: Drama, Psychological
Episodes: 61
Broadcast Network: Tv8
Broadcast Period: September 4, 2020 – February 18, 2022
Production Company: OGM Pictures
Director: Cem Karci
Screen Writer: Banu Kiremitci Bozkurt
Filming Locations: Istanbul, Turkey
Synopsis
The Red Room (Kirmizi Oda) Turkish series is based on the real-life stories included in the novel named Inside of the Medallion (Madalyonun Ici) by Gulseren Bugdaycioglu.
Doktor Hanim (Binnur Kaya) is a successful therapist who owns a therapist clinic in Istanbul. Her office room is known as the Red Room due to the red color used as a decoration. She works together with her colleagues Doctor Piraye (Tulin Ozen), Doctor Deniz (Burak Sevinc) and Doctor Ayse (Meric Aral).

Doctor Hanim is respected not only by her colleagues but also by office staff including secretary Tuna (Gulcin Kultur Sahin). She is the one whom everybody considers as a mentor. She listens well, tries her best to understand people's problems, shows tenderness, and gives good advice.
Doctor Hanim deals with different patients from different backgrounds. She sees vulnerable women, men, and even children who look for to get a psychological treatment. While dealing with her patients in the clinic, she discovers different lives of women, men, and children. She tries her best to handle their traumas and problems.
The therapy processes among patients and therapists reveal that past experiences can have big impact on people's lives.
Nesrin (Hande Dogandemir) is married to Mehmet (Salih Bademci) and has two children. Even though she has a successful career, she suffers from domestic violence and tries to hide this problem from everybody. When she understands that she cannot handle this problem anymore by herself, she decides to get a professional advice for the sake of her children. Thus, she comes to the Red Room.
Meliha (Evrim Alasya) is a middle aged woman who has a conservative lifestyle. When her parents were killed in front of her eyes, she had to take care of her siblings even though she was a little child. Throughout her life, Meliha hides the truth about her parents and tries to have a decent life. When she cannot endure the pressure of her past, she tries to commit suicide. Due to this reason, she comes to the Red Room upon the request of her daughter.
Alya (Melisa Sozen) is a young girl who comes from a wealthy family. Even though she is so clever and successful at school, she suffers from phycological problem due to her childhood trauma. Alya has been raised in a big house without love and tenderness. While her mother wanted to be recognized by her mother-in-love, she ignored her own daughter. Alya cannot handle her childhood trauma and comes to the Red Room.
Different patients come to the Red Room to find a solution for their problems. While dealing with different patients, the therapists discover different lives and at the same time, they try to handle their own problems. Doctor Ayse has some feelings towards Doctor Deniz but cannot reveal her feelings. At the same time, Doctor Deniz has some problems in his marriage. He and his wife have been dreaming to have a baby yet they cannot manage to do it even though they have tried different treatment for a long lime. Meanwhile, Doctor Piraye is trying to do her best to raise her twin boys. After her husband cheated on her, she gets divorce and becomes a single mother of twin boys. These doctors work at the same clinic and they need to find a way to get along well with each other.
The Red Room (Kirmizi Oda) tv series story is based on the real-life stories such as domestic violence, childhood trauma, community pressure and so on. The Red Room (Kirmizi Oda) welcomes different actors and actresses in each episode. Will Meliha find courage to reveal the truth about her parents? Will Mehmet understand the reason behind his violent act? Will Alya get over from her childhood trauma and have a peaceful life? Will Doctor Ayse reveal her feelings towards Doctor Deniz?
The Red Room (Kirmizi Oda) Tv Series Cast
Guest Actors / Actresses
External Links
Official Site: Broadcast Network
English Wikipedia:
Imdb:
Social
Instagram: @kirmizioda.dizi
Twitter: @kirmiziodadizi
Facebook: @kirmiziodadizisi
E-Mail:
Youtube Channel: @KirmiziOdaDizisi
You Might Also Like
The Innocents (Masumlar Apartmani)
My Home My Destiny (Dogdugun Ev Kaderindir)
The Red Room (Kirmizi Oda) Turkish Drama Relationship Chart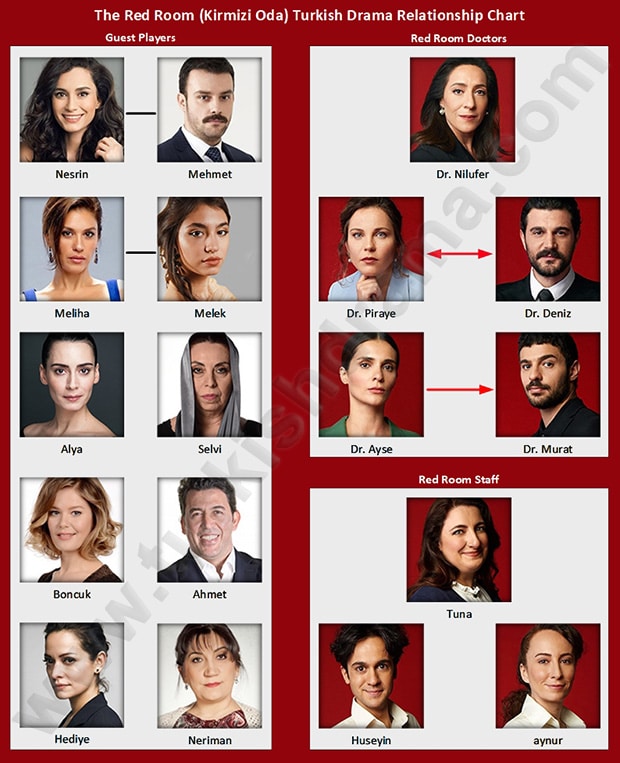 The Red Room (Kirmizi Oda) Turkish Drama Trailer (with English Subtitle)
Kırmızı Oda 2. Tanıtım | ÇOK YAKINDA!