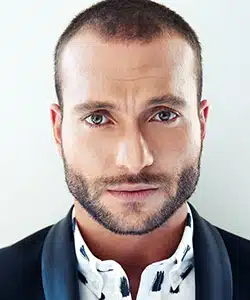 Profile
Name: Gorkem Sevindik
Birthdate: October 17, 1986
Birthplace: Adana, Turkey
Height: 186 cm
Eye Color: Green
Hair Color: Black
Education: Mujdat Gezen Art Center and Pana Academia (Mujdat Gezen Sanat Merkezi ve Pana Akademi)
Talent Agency: Erdem Erguney Menajerlik
Spouse:
Biography: Gorkem Sevindik was born in 17 October 1986 in Adana. He made his debut with his role as Pusat in popular Turkish drama Valley of Wolves Ambush (Kurtlar Vadisi Pusu). He became very popular with his role in turkish series Oath (Soz).
Gorkem Sevindik Tv Series / Movies
2007 – 2016 Valley of Wolves Ambush (Kurtlar Vadisi Pusu) (as Pusat)
2011 – My Heart Chose You (Kalbim Seni Secti)
2017 – Bandits (Eskiya Dunyaya Hukumdar Olmaz)
2017 – 2019 Oath (Soz) (as Kesanli Mucahit)
2020 – Ramo (as Boz)

Awards
Social
Instagram: https://www.instagram.com/gorkemsevindik01/
Twitter:
Facebook:
E-Mail:
Trivia
Body Type:
Skills:
Star Sign: Libra
Blood Type:
Hobbies:
Weight: 75 kg
Gorkem Sevindik Gallery