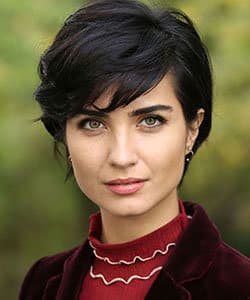 Profile
Name: Tuba Buyukustun
Birthdate: July 5, 1982
Birthplace: Istanbul, Turkey
Height: 173 cm
Eye Color: Hazel
Hair Color: Brown
Education: Mimar Sinan University Fine Arts School – Stage Decor and Costume Design (Mimar Sinan Universitesi Sahne Dekorlari ve Kostum Tasarimi)
Talent Agency: Yasemin Ozbudun Talent Management
Spouse: Onur Saylak (m. 2011–2017)
Children: Maya Saylak, Toprak Saylak
Biography: Tuba Buyukustun was born in 5 July 1982 in Istanbul. Her parents are originally from Erzurum. She started her acting career thanks to Tomris Giritlioglu. She made her debut with a small role in popular Turkish drama Rose and The Thorn (Cemberimde Gul Oya). She became the main character first time with Turkish drama Under the Linden Trees (Ihlamurlar Altinda). Tuba Buyukustun got married to Turkish actor Onur Saylak in 2011 and gave birth to twin girls: Maya and Toprak.

Tuba Buyukustun Tv Series / Movies
Awards
2005 –

Republic of Serbia and Montenegro International TV Bar Festival – Best TV Show Actress (Gulizar)

2007 –

Istanbul Universitesi Bilisim Awards – Best TV Actress (Asi)

2008 –

Istanbul University Computer Club Awards – Best TV Show Actress (Asi)

2010 –

Radio, TV, and Journalists' Association – Actress of the Year (Gonulcelen)

2010 –

Marmara University Mathematics Club Success Awards – Best Movie Actress (Yuregine Sor)

2010 –

Siyaset (Politics) Magazine – Tv Actress of the Year

2010 –

Ayakli Gazete – Tv Actress of the Year

2011 –

Elle Style Awards – Actress of the Year

2014 –

42nd International Emmy Awards – Best Actress Nominee (20 Dakika)

2015 –

4th Crystal Mouse Awards – Best Actress (Kara Para Ask)

2015 –

14th Ceremony of International Giuseppe Sciacca Awards – Best Actress

2015 –

22nd ITU Emos Success Awards – Best Actress (Kara Para Ask)

2015 –

Uludag Universitesi Marconi Awards – Best Actress in a TV Show (Kara Para Ask)

2015 –

Radio, TV, and Journalists' Association – Actress of the Year (Kara Para Ask)

2016 –

Turkish Youth Awards – Best Actress in a TV Show (Kara Para Ask)

2017 –

GTZ Academy Awards – Cahide Sonku Movie Actress Award

2017 –

44nd Pantene Golden Butterfly Awards – Mucizeyi Yaratanlar Onur Odulu
Commercials
2000 – Colins
2001 – Kremini
2002 – Molped
2008 – Lamees ve Mohannad Parfume
2007 – 2013 Pantene (Turkey)
2010 – Maximum Cart
2010 – 2014 Pantene (Middle East)
2013 – 2014 Arte Madrid Brand Ambassador
2012 – 2013 Pantene (Azerbaijan)
2014 – 2015 Molfix (Middle East)
2016 – 2017 IWC Schaffhausen
2021 – Eti Browni Intense
2021 – MegaFon (Russia)
Social
Instagram: Official Instagram Account
Twitter: Official Twitter Account
Facebook: Official Facebook Account
E-Mail: Contact
Youtube Channel: Official Youtube Channel
Trivia
Body Type:
Skills:
Star Sign: Crab
Blood Type:
Hobbies:
Tuba Buyukustun Gallery
Tuba Buyukustun "Sayenizde" Cover
#TubaBuyukustun Tuba Buyukustun: Sayenizde