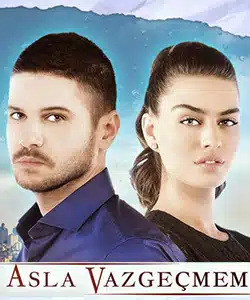 Original Title: Asla Vazgecmem
English Title: I Never Give Up
Also Known As: Aku Tidak Pernah Menyerah
Genre: Romance, Drama
Episodes: 59
Broadcast Network: Show TV
Broadcast Period: February 12, 2015 – October 6, 2016
Production Company: Gold Film
Director: Aysun Akyuz
Screen Writer: Sirma Yanik, Melis Civelek
Filming Locations: Istanbul, Turkey
Synopsis
Yigit (Tolgahan Sayisman) is a young and rich business man who had nothing in the past but manages to become very successful with his own effort and passion. He never believes in love and never thinks that he will fall in love with someone.
Therefore, Yigit accepts to get married to his aunt's daughter Iclal (Safak Pekdemir) even though he does not love her. After marriage, he gives all his attention to his child and puts his shoulder to the wheel.
When Yigit realizes that he cannot continue like this, he wants to get divorce. However, his wife Iclal prefers to die instead of getting divorce. While they are discussing at the car, they make an accident and Iclal enters the unfortunate condition of a persistent vegetative state.

Nur (Amine Gulse), on the other hand, is a young and beautiful girl who lives in Adana (city in the south of Turkey). When her parents pass away, she comes to Istanbul where her aunt lives.
Nur wants to find a job in Istanbul and start to live in peace by herself. She finds out that her aunt works as a maid in a big house whose owner is Yigit.
Out of pure coincidence, the lives of Yigit and Nur intersect and they fall in love with each other at first sight. However, Yigit could not reveal that he is married and his wife has been in a vegetative state for almost 3 years.
The story becomes more complicated, when Yigit's wife Iclal recovers from a vegetative state.
In i never give up (asla vazgecmem) tv series story, you will explore the life of a man who finds himself in the middle of two women. What will Nur do when she learns that Yigit's wife is alive? Will Nur eventually forgive Yigit? Will Nur and Yigit manage to live together happilly?
I Never Give Up (Asla Vazgecmem) Tv Series Cast
Tolgahan Sayisman as Yigit
Amine Gulse as Nur
Safak Pekdemir as Iclal
Aysegul Gunay as Aytul
Tugay Mercan as Cahit
Yonca Cevher as Nazan
Hulya Gulsen Irmak
Yagizkan Dikmen as Emin
Tugce Kumral as Elmas
Poyraz Bayramoglu as Mert
Gozde Mutluer as Yagmur
Taner Rumeli as Fatih
External Links
Official Site: https://www.showtv.com.tr/dizi/tanitim/asla-vazgecmem/1411
English Wikipedia:
Imdb:
You Might Also Like
Tulip Age (Lale Devri)