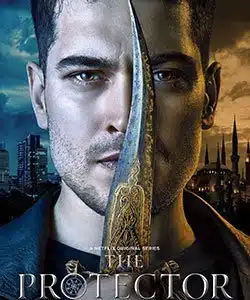 Details
Original Title:
Hakan: Muhafiz
English Title:
The Protector
Also Known As:
Genre:
Fantasy
,
Action
,
Mistery
Episodes:
12+
Broadcast Network:
Netflix original series
Broadcast Period:
December 14, 2018 –
Production Company:
Netflix TV
Director:
Gokhan Tiryaki
,
Can Evrenol
,
Umut Aral
,
Gonenc Uyanik
Screen Writer:
Binnur Karaevli
Synopsis
Hakan (Cagatay Ulusoy) is a young guy who works at an antique shop in Istanbul Grand Bazaar. He has been raised by his adoptive father who owns the antique shop.
Hakan is just an ordinary guy in the city of 15 million. His ordinary life changes dramatically when one woman comes to his shop and asks for a shirt with talisman. Even though he remembers that they have this kind of shirt, Hakan's adoptive father keeps it short and sends the woman away. In order to earn lots of money out of this business, Hakan finds the shirt on their storage room and decides to meet that woman without informing his adoptive father. However, something unexpected happens.

When Hakan goes to the meeting place with a shirt with talisman, he is attacked by unknown people. During the fight, his adoptive father who has chased him secretly is shot. Upon his adoptive father's request, Hakan finds Kemal (Yurdaer Okur) instead of going to hospital and calling for police. After then Hakan's life turns upside down.
Hakan learns that he is part of a secret and ancient order whose goal is to protect Istanbul from immortals. Hakan is the chosen one who has many loyal followers figting against immortal group. Stunned by the revelation, Hakan finds himself in a difficult situation where he is torn between two choices: his duties as the Protector and a new love Leyla (Ayca Aysin Turan) he comes across.
In order to fulfill his duties, Hakan needs to go through a tough training. During this time, Zeynep (Hazar Erguclu) becomes his trainer and tries her best to train him both physically and mentally. In these training sessions, Hakan learns that the shirt with talisman will keep the protector safe; the gem ring will help protector to recognize the immortals, and the dagger will help the protector to kill the immortals.
Even though there were seven immortals in the past, six of them were killed with the hard work of previous Protectors. Now, Hakan needs to find the last immortal and complete his duty.
In Hakan: The Protector tv series story, you will watch how an ordinary guy's life changes dramatically when he learns that he is assigned a duty to protect Istanbul from immortals. Will Hakan manage to find the remaining immortal and kill him? Will Hakan find peace in his life? Will Istanbul be safe?
The Protector Cast
Cagatay Ulusoy as Hakan Demir
Ayca Aysin Turan as Leyla Sancak
Hazar Erguclu as Zeynep Erman
Okan Yalabik as Faysal Erdem
Engin Ozturk as Levent Sancak
Mehmet Kurtulus as Mazhar Dragusha
Yurdaer Okur as Kemal Erman
Saygin Soysal as Mergen
Burcin Terzioglu as Ruya
Senay Aydin as Derya
Helin Kandemir as Ceylan
Cihat Suvarioglu as Yasin
Mehmet Yilmaz Ak as Tekin
Erol Gedik as Murat
Fatih Donmez as Orkun
Defne Kayalar as Suzan Bayraktar
Cigdem Selisik Onat as Azra
Ayse Melike Cerci as Piraye
Boran Kuzum as Okhan
External Links
Official Site: https://www.netflix.com/tr-en/title/80189829
English Wikipedia:
Imdb:
You Might Also Like
Magnificent Century (Muhtesem Yuzyil)
The Protector (Hakan: Muhafiz) Relationship Chart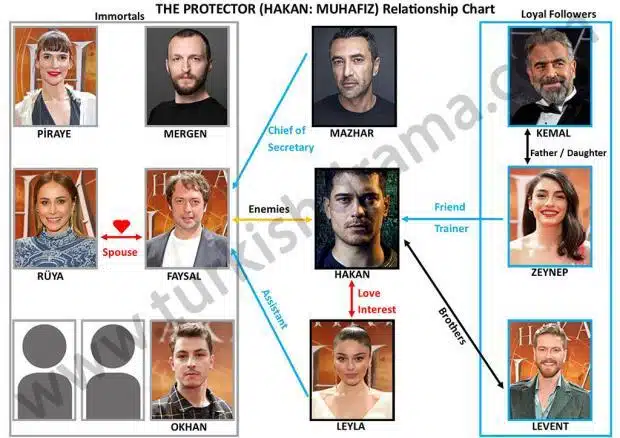 The Protector Season 1 Trailer (with English Subtitles)
The Protector (Hakan: Muhafiz) Trailer 2 (Eng Sub) #TheProtector #ÇagatayUlusoy
Season 2 Trailer (with Eng Sub)
The Protector (Hakan: Muhafiz) Turkish Drama - Season 2 Trailer