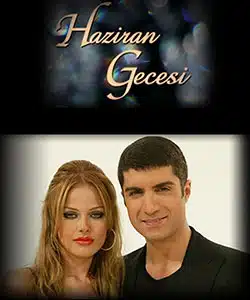 Details
Original Title: Haziran Gecesi
English Title: Night of June
Also Known As: Havin (Romania), Havin – Doua vieti, o dragoste (Romania), Iunskaya Nochi (Russia)
Genre: Romance, Drama
Episodes: 62
Broadcast Network: Kanal D
Broadcast Period: September 13, 2004 – February 20, 2006
Production Company: Gold Film
Director: Andac Haznedaroglu
Screen Writer: Mahinur Ergun
Filming Locations: Istanbul, Turkey
Synopsis
Havin (Naz Elmaz) is a 23-year old girl who goes to university. She lives with her friend but they struggle for money to pay the rent and other expenses. Therefore, Havin accepts to be hostess at a party.
In the party, she comes across Baran (Ozcan Deniz) who turns her life upside down. Havin and Baran fall completely into each other. They become very close together and plan to be married.
However, as they are on the way for the wedding, they have a car accident. Both survive the crash but Havin is injured badly. Baran's mother Kumru (Nebahat Cehre) makes a deal that she will save Havin if Havin leaves Baran and goes away from his life.

Havin is hesitant but she accepts. On the other hand, Baran is told that Havin is dead. After mourning for Havin, Baran marries Duygu (Burcu Kara) who is his psychologist.
Years later, Baran has three children and he is happy with Duygu. But then, he out of pure coincidence sees Havin after so many years. Now, Havin is back but she acquaints herself as another woman, Sibel.
In night of june (haziran gecesi) tv series story, you will explore a tragic love story between Havin, Baran, and Duygu. Will Baran still continue to love Havin? How will Baran react to a girl who looks exactly like his love, Havin? Will Duygu manage to steal the hearth of Baran?
Night of June (Haziran Gecesi) Tv Series Cast
Naz Elmas as Havin
Ozcan Deniz as Baran
Burcu Kara as Duygu
Nebahat Cehre as Kumru
Demir Karahan as Ural
Cevdet Aricilar as Harun
Cenk Ertan as Cemal
Hakki Ergok as Semih
Gokce Yanardag as Selen
Ozge Ozder as Lale
Sehsuvar Aktas as Levon
Muhammed Cangoren as Gulaga
Recognitions
32. Golden Butterfly Awards (2004): Best Actor (Ozcan Deniz)
External Links
Official Site: https://www.kanald.com.tr/hazirangecesi
English Wikipedia:
Imdb:
You Might Also Like
Love and Punishment (Ask ve Ceza)
Unforgettable (Unutulmaz)