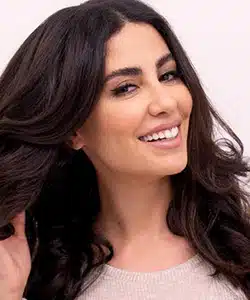 Profile
Name: Iman Casablanca
Birthdate: 1999
Birthplace: Morocco
Height: 175 cm
Eye Color: Brown
Hair Color: Black
Education: Mathematics (Matematik Muhendisligi)
Talent Agency:
Spouse:
Biography: Iman Casablanca was born in Morocco in 1999. She is Arab origin. Her father is a police chief and her mother is a French teacher. She has 5 siblings and she knows Arabic, French, Turkish and Farsi. She started her career as a model and she became the first ranking at the Best Model of the World competition. After then, she started to be interested in acting and took acting lessons. She made her debut with her role in turkish series Forbidden Fruit (Yasak Elma).
Iman Casablanca Tv Series / Movies
2019 – Sleepless Club (Uykusuzlar Kulubu) (as Iman)
2019 – Forbidden Fruit (Yasak Elma) (as Leyla)
2020 – Nehir (Baraj – Dam) (as Zahra)

Awards
Social
Instagram: https://www.instagram.com/imancasablanca/
Twitter:
Facebook:
E-Mail:
Trivia
Body Type:
Skills:
Star Sign:
Blood Type:
Hobbies:
Weight: 50 kg
Gallery
Gec Olsun Guc Olmasin
Iman Casablanca Turkish Song