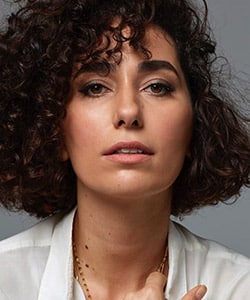 Profile
Name: Esra Rusan
Birthdate: 1983
Birthplace: Kars, Turkey
Height: 168 cm
Eye Color: Brown
Hair Color: Brown
Education: Mimar Sinan University Fine Arts School – Theatre (Mimar Sinan Guzel Sanatlar Universitesi Tiyatro Bolumu)
Talent Agency: Persona Sanat
Spouse: Fatih Kizilgok (m. 2014 – 2020)
Biography: Esra Rusan was born in 1983 in Kars. After graduating from Mimar Sinan University, she started her acting career with her role in Turkish series Back Streets (Arka Sokaklar) in 2006. After then, she took part in various television series including Wounded Love (Vatanim Sensin) and Valley of Wolves Ambush (Kurtlar Vadisi Pusu). Esra Rusan got married to Turkish director Fatih Kizilgok in 2014 and got divorced in 2020.
Esra Rusan Tv Series / Movies
2006 – Back Streets (Arka Sokaklar) (as Sedef)
2007 – Ayrilik (as Ela)
2007 – Valley of Wolves, Terrorism (Kurtlar Vadisi Teror) (Movie)
2009 – Love Hurts (Ask Yakar) (as Bahar)
2010 – Island: The Wedding of Walking Deads (Ada: Zombilerin Dugunu) (as Gamze) (Movie)
2011 – Little Sins (Kucuk Gunahlar) (as Silan) (Movie)
2012 – Ustura Kemal (as Gulnaz)
2013 – Sakli Kalan (as Basak Sezgin)
2015 – Pretty Little Liars (Tatli Kucuk Yalancilar) (as Melis)
2016 – The Most Beautiful Smell in the World (Dunyanin En Guzel Kokusu) (as Kubra) (Movie)
2017 – 2018 Wounded Love (Vatanim Sensin) (as Emine)
2016 – The Most Beautiful Smell in the World 2 (Dunyanin En Guzel Kokusu 2) (as Kubra) (Movie)
2019 – The Gift (Atiye)
2020 – Interrupted (Yarim Kalan Asklar – Unfinished Love Circle) (as Saadet)
2020 – 2021 The Innocents (Masumlar Apartmani) (as Esra Safak)
Awards
2011 – 6th International Dadas Film Festival (6. Uluslararasi Dadas Film Festivali) – Best Actress – En Iyi Kadin Oyuncu
Theatre Plays
Dort Bolu Dort
Savas Ikinci Perdede Cikacak
Dava
Medeni Hali: Kadin
Cam
Sikiyonetim
Hayvan Ciftligi
Limon limon Limon Limon Limon
Safakta Bulus Benimle
Social
Instagram: https://www.instagram.com/esrarusann/
Twitter:
Facebook:
E-Mail:
Trivia
Body Type:
Skills:
Zodiac Sign:
Blood Type:
Hobbies:
Weight:
Esra Rusan Gallery