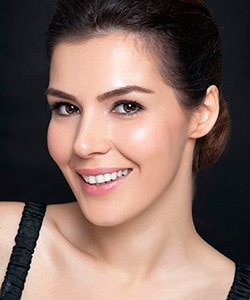 Profile
Name: Hatice Sendil
Birthdate: August 2, 1983
Birthplace: Istanbul, Turkey
Height: 175 cm
Eye Color: Brown
Hair Color: Brown
Education: Business Administration (Isletme)
Talent Agency:
Spouse: Burak Sagyasar (m. 2015-present)
Children: Can Sagyasar
Biography: Hatice Sendil was born in 2 August 1983 in Istanbul. She was raised in Antalya. Hadice Sendil has two sisters She studied business administration. Hadice Sendil became 3rd ranking at Miss Turkey in 2001 and became 4th ranking at Miss Europe. After then, she started her career in the television world.
Hatice Sendil Tv Series / Movies
2001 – New World (Yeni Hayat) (as Buket)
2005 – Eylul (as Aziza)
2007 – Iki Yabanci (as Zeyno)
2007 – Fesuppanallah (as Gulpare)
2008 – Wild Rose (Yaban Gulu) (as Lacin)
2008 – 2010 Valley of Wolves Ambush (Kurtlar Vadisi Pusu) (as Ebru Alemdar)
2010 – The Large Family (Genis Aile) (as Selale)
2010 – Karadaglar Family (Karadaglar) (as Gulhayat)
2012 – Dila (Dila Hanim) (as Dila)
2014 – The Day My Destiny Is Written (Kaderimin Yazildigi Gun) (as Elif Yorukhan)
2015 – Life Kiss (Hayat Opucugu) (as Hayat) (Movie)
2016 – High Society (Yuksek Sosyete)
2020 – The Great Seljuks: Guardians of Justice (Uyanis: Buyuk Selcuklu) (as Terken Hatun)
Social
Instagram: https://www.instagram.com/haticesendil/
Twitter:
Facebook:
E-Mail: