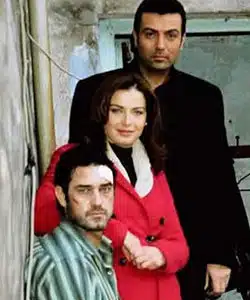 Details
Original Title: Kaybolan Yillar
English Title: Lost Years
Also Known As: Wa Tamdy Al Ayam (Arabic), Anii pierduti (Romania), Izgubeni godini (Bulgaria), Vitet e Humbura (Albania)
Genre: Drama, Romance
Episodes: 49
Broadcast Network: Star TV
Broadcast Period: April 14, 2006 – Marc 1, 2007
Production Company: Base Production
Director: Sergin Akyaz, Zeynep Gunay
Screen Writer: Sergin Akyaz
Filming Locations: Turkey
Synopsis
Esmer, Ali, and Ezel are best friends in orphanage. They are inseparable, they are family and they are every thing to each other. However, when a family wants to adopt Ezel as a replacement for their dead daughter, the life of these three friends changes forever.
After 23 years, we see that Ali (Burak Hakki) is a police officier, Ezel (Yesim Buber) whose name is Aylin now is a wealthy young doctor, and Esmer (Saruhan Hunel) is a mob gangster.
After all these years, a cruel man Esmer, an elegant tender girl Ezel/Aylin, and a kind guy Ali meet again but now they become enemies.

In this story, you will explore the lives of three close friends who grow apart and then become bitter enemies when they meet again. Will Ali, Ezel and Esmer discover the truth about their past and learn the real identity of each other? Will Ali and Esmer manage to settle down the conflict between them? How will Esmer feel when he learns that Aylin is actually Ezel whom he tries to find all these years?
Lost Years (Kaybolan Yillar) Tv Series Cast
Yesim Buber as Ezel/Aylin
Saruhan Hunel as Esmer
Burak Hakki as Ali
Fikret Hakan as Suleyman Cesen
Semra Dincer as Rosa
Taner Barlas as Selcuk
Muhammed Cangoren as Hasan
Sema Ceyrekbasi as Meral
Sevtap Parman as Sukran
Zuhal Topal as Yonca
Main Characters' Other Popular Dramas
Burak Hakki: From Lips to Hearth (Dudaktan Kalbe)
External Links
Official Site:
English Wikipedia:
Imdb: https://www.imdb.com/title/tt0813726/
You Might Also Like
Ash and Fire (Kul ve Ates)
Rain Season (Yagmur Zamani)