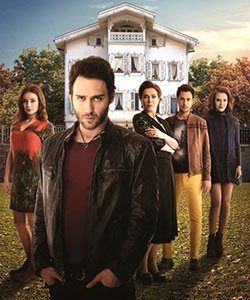 Details
Original Title: Bir Ask Hikayesi
English Title: A Love Story
Also Known As:
Genre: Melodrama, Romance
Episodes: 36
Broadcast Network: Fox Tv
Broadcast Period: March 26, 2013 – January 14, 2014
Production Company: MF Yapim
Director: Baris Yon, Baris Ercetin
Screen Writer: original screen writer : Lee Kyung Hee; screen adapter: Makbule Kosif, Zehra Guleray, Gulsev Karagoz, Zafer Ozer Cetinel
Synopsis
Korkut Ali (Seckin Ozdemir) is a young and handsome guy who has a poor life in Germany. He is not fortunate during all his life. He was abandoned by his parents as a child and was adopted by a couple in Germany. However, he was left alone by his foster family.
Ceylan (Damla Sonmez), on the other hand, is a beautiful and naive young girl who lives in Istanbul, Turkey. She is a fashion designer of a famous singer, Tolga (Yamac Telli). She is in love with Tolga since she was a child. One day, she goes to Germany with Tolga to do a photohoot. There, she tries to do everything to please Tolga but she never manages to do that.
She gets angry and wants to return back to Istanbul. On her way to airport, her luggage and money are stolen and she starts to wander around without knowing what to do. At that time, she meets Korkut and asks his help. Korkut saves her from the gangsters. He finds her luggage and gives some money.
After this coincidence, Korkut goes to his house and finds there a wedding invitation from his ex-girlfriend. He still loves his ex-girlfriend who has left him just because he is poor. Korkut does not want to loose her, thus he decides to go the wedding ceremony. However, at the wedding ceremony, he is shot in the head. The doctor saves him but Korkut has to live a bullet in his head and he has less than a year to live.
After this unfortunate event, Korkut's ex-girlfriend gives him some money and wants him to go to Istanbul and to find his birth parents. Korkut takes the money, leaves Germany and goes to Istanbul to find his parents and to have a peaceful life until he dies.
While searching for peace, safety and happiness in Istanbul, Korkut meets sadness. He learns that his mother is a famous singer Gonul Karanli (Zuhal Olcay) who has a rich and happy life with his son Tolga. Korkut feels so betrayed because while he is suffering in Germany, his birth mom and his brother live a happy life in Istanbul. That's why, he wants to get revenge from his mom and his brother.
In a love story tv series story, you will explore pure love, romance, mother-son relations, hope, anger, conflict, and betrayal at the same time. Will Korkut forget about his past and live the rest of his life peacefully? Will Ceylan manage to bring happiness to Korkut? Will Korkut take his revenge from his mother and his brother?
This tv series is a Turkish version of Korean popular drama "I Am Sorry, I love You" (Mianhada Saranghanda)
A Love Story Cast
Seckin Ozdemir as Korkut Ali
Damla Sonmez as Ceylan
Elcin Sangu as Eda
Yamac Telli as Tolga Karanli
Zuhal Olcay as Gonul Karanli
Ayberk Pekcan as Tahsin
Aysen Sezerel as Asiye
Gunes Sayin as Emine
Haldun Resuloglu as Hakki
Onay Kaya as Selim
Taha Yusuf Tan as Umut
Asena Keskinci as Ece
External Links
Imdb: http://www.imdb.com/title/tt2972020/
Official Site: http://www.fox.com.tr/Bir-Ask-Hikayesi/izle
You Might Also Like
Bitter Life (Aci Hayat)
Menekse and Halil (Menekse ile Halil)
A Love Story (Bir Aşk Hikayesi) Gallery