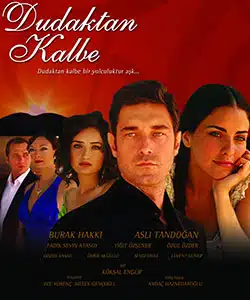 Details
Original Title: Dudaktan Kalbe
English Title: From Lips to Hearth
Also Known As: Dakato Qalb (Arabic), De pe buze la inima (Romania), Fjalë drejt zemres (Albania), Kismet (Greece), Melodija na sarceto (Bulgaria), De los labios al corazón (Paraguay), Az buse ta eshq (Iranian)
Genre: Romance, Drama
Episodes: 75
Broadcast Network: Show TV
Broadcast Period: September 2, 2007 – June 26, 2009
Production Company: Ay Yapim
Director: Andac Haznedaroglu
Screen Writer: Melek Gencoglu, Ece Yorenc
Filming Locations: Istanbul, Turkey
Synopsis
Huseyin Kenan (Burak Hakki) is a famous violinist but still could not forget his childhood. He experienced a lot of pain: his father goes to prison because of robbery, after the suicide of his father he starts to live with his uncle, Sait (Koksal Engur), he always tries to overcome the emotional pain of the grudging charity of his uncle, thus he leaves his first love, Leyla (Fadik Sevin Atasoy) who later on marries Kenan's cousin Cemil (Yigit Ozsener).
The life of Lamia (Asli Tandogan) is not easy as well; due to the death of her parents, she lives with relatives who provide food and shelter but treat her as a servant. Lamia is a young girl who is a devoted fan of Kenan and his music.

The fateful meeting of Kenan and Lamia marks the beginning of a new life for two. Although there is an immediate physical and emotional attraction between them, Kenan says that the things between them will not go from lips to the heart.
Little and innocent Lamia develops a crush on him but he suppresses his love because of Lamia's inferior social position and the damage such a relationship might cause to his reputation.
Eventually, Kenan marries Cavidan (Ozge Ozder) who is a powerful businesswoman and the daughter of a wealthy family. However, this marriage is not the end of everything, but the beginning of pain, intrigue and complexity.
In from lips to hearth (dudaktan kalbe) tv series story which is based on the work of the foremost Turkish author Resat Nuri Guntekin, you will explore the struggle of an innocent girl towards ethics, loyalty, love and ambition. Will Lamia overcome the tragedies of life? Will Lamia stick to her childish infatuation and continue to love her first love despite all the hardships? Will Lamia and Kenan be happy at the end?
From Lips to Hearth (Dudaktan Kalbe) Tv Series Cast
Burak Hakki as Huseyin Kenan Gun
Asli Tandogan as Lamia Sonmez
Yigit Ozsener as Cemil Pasazade
Ozge Ozder as Cavidan Mericoglu
Koksal Engur as Sait Pasazade
Fadik Sevin Atasoy as Leyla Pasazade
Salahsun Hekimoglu as Vefik Mericoglu
Gozde Kansu as Nimet
Levent Guner as Sukru
Ayten Soskok as Enise
Ismail Duvenci as Munir
Sevgi Onat as Melek Gun
Rafi Emeksiz as Ilyas
Main Characters' Other Popular Dramas
Asli Tandogan: Slave to Love (Aska Surgun), Grand Bazaar (Kapalicarsi)
Burak Hakki: Lost Years (Kaybolan Yillar), Like a Sin (Bir Gunah Gibi)
Yigit Ozsener: Ezel
External Links
Official Site: https://www.ayyapim.com/dudaktan-kalbe
Official Site 2: http://www.showturk.com.tr/dizi/tanitim/dudaktan-kalbe/996
English Wikipedia:
Imdb:
You Might Also Like
An Istanbul Fairytale (Bir Istanbul Masali)
What is the Fault of Fatmagul (Fatmagulun Sucu Ne)