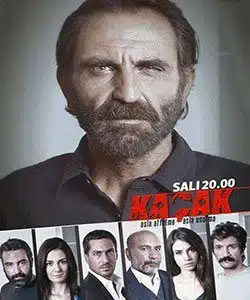 Details
Original Title: Kacak
English Title: The Fugitive
Also Known As:
Genre: Action, Mystery
Episodes: 52
Broadcast Network: ATV
Broadcast Period: September 24, 2013 – February 3, 2015
Production Company: Surec Film
Director: A. Volkan Kocaturk
Screen Writer: Zulkuf Yucel, Hurer Ebeoglu
Filming Locations: Istanbul, Turkey
Synopsis
Serhat (Gurkan Uygun) is a cop who works for a mafia undercover. The cruel mafia leader Ismet (Mustafa Avkiran) considers Serhat as his own child but cannot forgive him after learning his true identity. Serhat kills the son of a cruel mafia leader while trying to save his own life and escapes to a small town.
Serhat starts to live in Sivas-Divrigi that is a small Anatolian town. He tries to escape from his past and changes his identity. He starts to use a different name, Ahmet and hides his true identity.
8 years later, Serhat has a calm family life as a café owner. He is married to Nurgul (Ozlem Yilmaz) for 7 years and has a little son. He has a happy marriage far away from his dark past. Everybody in the town even his lovely wife Nurgul knows nothing about his past.

Serhat's life changes dramatically when he finds himself in the middle of a robbery in the local jewelry store. He disarms the criminals, becomes the town hero and his story tops the national news. The unwanted publicity reveals his hidden identity and he is dragged back into a war with his old mafia leader.
When mafia leader watches the news about Serhat, he sends his men in order to bring Serhat to Istanbul.
Ertan (Berk Hakman) who is the groom of the mafia leader goes to the small town where Serhat lives and wants to bring him back to Istanbul. In order to persuade him, Ertan kidnaps Serhat's little son and wants to use him as an exchange for Serhat. However, Serhat's little son is killed accidentally in the middle of the gunfight.
Serhat's peaceful life turns upside down. His little son is killed and his lovely wife Nurgul accusses him for the death of their son. Serhat has nothing to do but to disclose his true identity to his wife. When his wife Nurgul learns all the truth about his past, she does not want Serhat and break up with him.
Serhat understands that nothing would become as before. He loses everything. His son is killed and his wife has left the house. He vows to get revenge on his son.
In order to take his revenge, Serhat goes to Istanbul and starts to take his revenge step by step. He starts to use the mafia leader's daughter Merve (Begum Birgoren). Merve was the former girlfriend of Serhat while he was working for a mafia. Even though she is married to Ertan and has a little son, she still has some feelings towards Serhat.
In The Fugitive (Kacak) tv series story, you will explore a wonderful crime story about an ex-policeman named Serhat who kills a famous mafia leader's son and has to live far away from Istanbul through disclosing his true identity. Will Serhat manage to get his revenge from the mafia leader? Will Nurgul forgive his husband and starts to have a peaceful life eventually? Will Merve continue to love Serhat even though he is trying to get revenge from his father and his husband? Will Serhat choose Nurgul or Merve?
The Fugitive (Kacak) Tv Series Cast
Gurkan Uygun as Serhat Hakeri
Berk Hakman as Ertan Demir
Ozlem Yilmaz as Nurgul
Burak Deniz as Burak Topcuoglu
Begum Birgoren as Merve Topcuoglu
Mustafa Avkiran as mafia leader Ismet Ali Topcuoglu
Hakan Kucukcetin as Dadayli Tahir
Inanc Konukcu as Doctor Nazmi Konukcu
Haluk Bilginer as Ustura Faysal Mengen
Metin Coskun as Erol Demir
Yagmur Tanrisevsin as Tulay
Yagiz Toraman as Umut Hakeri
Erdal Akinci as Murtaza Peyami
Serhat Yesil as Davut Onder
Cagkan Culha as Fatih
Cengiz Sezici as Bici
Turgut Tuncalp as Sait
Aysen Sezerel as Cemile Mengen
Alona Kral as Katerina
External Links
Official Site: https://www.atv.com.tr
English Wikipedia:
Imdb:
You Might Also Like
Ezel
The Return (Kehribar)
For My Son (Poyraz Karayel)
The Fugitive (Kacak) Tv Series Gallery