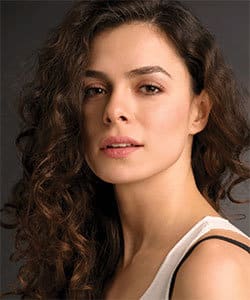 Profile
Name: Ozge Ozpirincci
Birthdate: April 1, 1986
Birthplace: Istanbul, Turkey
Height: 1.60 m
Eye Color: Brown
Hair Color: Brown
Education: Sabanci University School of Management (Sabanci Universitesi Yonetim Bilimleri) (2008)
Talent Agency: AKA Management
Spouse: Burak Yamanturk (m. 2021 – present)
Children: Mercan
Biography: Ozge Ozpirincci was born on April 1, 1986 in Istanbul. While she was going to high school, she spent 1 year in the US via AFS Program. She became very popular with her role Ipek in Turkish series Angels Bless You (Melekler Korusun). Ozge Ozpirincci also took part in various tv commercials such as Coca Cola, Cornetto, Eti Browni, and Turkcell.

Ozge Ozpirincci Tv Series / Movies
2008 – Daydreaming (Kavak Yelleri) (as Ada)
2008 – Do You Have a Courage for Love (Cesaretin Var mi Aska) (as Ebru Karatas)
2008 – 2010 Angels Bless You (Melekler Korusun) (as Ipek Taskir)
2010 – Deli Sarayli (as Dilruba)
2010 – Farewell (Veda) (as Fikriye) (Movie)
2011 – 2012 Red Scarf (Al Yazmalim) (as Asiye Has)
2011 – Anatolian Eagles (Anadolu Kartallari) (as Ayse Dincer) (Movie)
2012 – Cholera Street New World (Agir Roman Yeni Dunya) (as Zehir Ahu)
2013 – Kayip (Short Movie)
2013 – 2014 Tatar Ramazan (as Alin Terziyan)
2014 – 2015 Between Us (Aramizda Kalsin) (as Gorkem)
2014 – Mixed Tape (Karisik Kaset) (as Irem) (Movie)
2015 – 2016 Love Once Again (Ask Yeniden) (as Zeynep Taskin)
2017 – Hot Sweet Sour (Aci Tatli Eksi) (as Duygu) (Movie)
2017 – 2018 Phi (Fi) (as Sila)
2017 – Nuh Hill (Nuh Tepesi) (Movie)
2017 – 2020 Woman (Kadin) (as Bahar Cesmeli)
2019 – Miracle Doctor (Mucize Doktor) (as Bahar)
2020 – The Way We Are (Biz Boyleyiz) (as Efsun) (Movie)
2020 – Karakomik Filmler 2 (as Nazan) (Movie)
2021 – Ilk ve Son (as Deniz)
2022 – Yakamoz S-245 (Into the Deep) (as Defne)
Awards
2012 – 5th Aslan Max Awards – Favorite Movie Actress (Anatolian Eagles – Anadolu Kartallari)
2015 – 42nd Golden Butterfly Tv Stars Awards – Best Comedy Actress (In Love Again – Ask Yeniden)
2016 – Eryetis & Balkanlar Egitim Kurumlari Mavi Cinar Awards – Best Actress (In Love Again – Ask Yeniden)
2018 – 18th Magazinci Awards – Best Actress (Woman – Kadin)
2018 – 9th Quality of Magazine Dergisi Awards – Quality Actress (Woman – Kadin)
2018 – 7th Ayakli Gazete Tv Yildizlari Awards – Best Actress (Woman – Kadin)
2018 – 45th Golden Butterfly Tv Stars Awards – Best Actress (Woman – Kadin)
2020 – YTU 18th Yilin Yildizlari Awards – Favorite Movie Actress (Woman – Kadin)
2020 – 8th Ayakli Gazete Tv Yildizlari Awards – Best Actress (Woman – Kadin)
2020 – 14th GSU En Awards – Best Actress (Woman – Kadin)
Social
Instagram: Instagram – ozpirincci
Twitter: Twitter – @egzozpirincci
Facebook:
E-Mail:
Trivia
Body Type:
Skills:
Zodiac Sign: Aries
Blood Type:
Hobbies:
Weight: 52 kg
Ozge Ozpirincci Gallery
Interview with Ozge Ozpirincci
Özge Özpirinçci ile Soru-Cevap