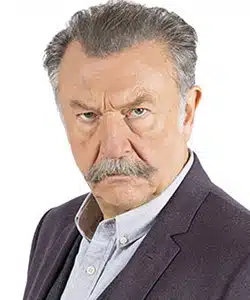 Profile
Name: Tamer Levent
Birthdate: October 13, 1950
Birthplace: Izmir, Turkey
Height: 178 cm
Eye Color: Black
Hair Color: Grizzle
Education: Ankara State Conservatory – Theatre (Ankara Universitesi Devlet Konservatuari Tiyatro Bolumu)
Talent Agency:
Spouse: Seynan Levent (m. 1982-present)
Children: Efe Levent, Hazel Levent
Biography: Tamer Levent, who is a Turkish actor, director, art director and writer, was born in 13 October 1950 in Izmir. After graduating from Ankara State Conservatory in 1977, he started to work at state theaters. He is also the founder and first President of TOMEB and the president of TOBAV (the Association of Theater, Opera and Ballet Employees). In 1982, Tamer Levent got married to Seynan Sezgin who was a producer and presenter at Turkish tv channel TRT2. The couple has a son and daughter.
Tamer Levent Tv Series / Movies
1998 – Yazilar Filmatik (the movie)
2006 – Gulpare (as Hasan Cevdet)
2007 – Wounded Heart (Yarali Yurek) (as Tahir Aga)
2007 – Give Up My Heart (Vazgec Gonlum) (as Fikret)
2009 – Seperation 2 (Ayrilik 2) (as Besir)
2010 – Day of Sword (Kilic Gunu) (as Celal Kiziltan)
2012 – Beyond the Hill (Tepenin Ardi) (as Faik) (the movie)
2012 – Frost (Ayaz) (as Baron Sefik) (the movie)
2012 – Horsemen (Atlilar)
2013 – Izzet Captain and His Son (Izzet Kaptan ve Oglu) (as Izzet Captain) (the movie)
2013 – Water and Fire (Su ve Ates) (as Huseyin Yagmur's father) (the movie)
2013 – Winter Sleep (Kis Uykusu) (as Suavi) (the movie)
2013 – Fatih (as Ali Kuscu)
2014 Yunus Emre: Voice of Love (Yunus Emre: Askin Sesi) (as Hallac-i Mansur) (the movie)
2014 – To Be (Olmak) (short movie)
2014 – Corn Island (Misir Adasi) (as Commander) (the movie)
2014 – Call Me Suffer Ever After (Bana Artik Hicran De) (as Sait)
2015 – Guest (Misafir) (the movie)
2015 – Ertugrul 1890 (as Suleyman Bey) (the movie)
2015 – Love Once Again (Ask Yeniden) (as Sevket)
2016 – Brave and Beautiful (Cesur ve Guzel) (as Tahsin Korludag)
2016 – Fish in the Water (Suda Balik) (as Omer) (the movie)
2017 – Bride of Istanbul (Istanbullu Gelin) (as Galip Selimer)
2019 – Cicero (as Sir Hughe Knatchbull-Hugessen) (Movie)
2020 – Maria and Mustafa (as Kudret Candemir)
2021 – The Agency (Menajerimi Ara) (as Tamer)
2021 – Chrysalis (Camdaki Kiz) (as Rifat Koroglu)
Awards
2009 – 45th Ankara Arts Association Theater Awards – Best Actor
2012 – 6th Asia Pacific Cinema Academy awards (APSA) – Best Actor (Tepenin Ardi)
2012 – 3rd Malatya Film Festival – Best Actor
2013 – 24th Ankara Film Festival – Best Actor (Tepenin Ardi)
2013 – 81st Language Festival – Honorary Award
2015 – 20th Sadri Alisik Theater and Cinema Actor Awards – Selection Committee Special Award (Kis Uykusu)
2016 – 4th New Magazine Theater Awards – Honor Award
2016 – Ismet Kuntay Theater Awards – Honor Award
2016 – TAKSAV 21st International Ankara Theater Festival – Festival Honorary Award
Adaptations
Efruz Bey – Omer Seyfettin
Ben ki Abdulcanbaz
Books
Nicin Tiyatro (articles)
Ya Tutarsa (play)
Social
Instagram: https://www.instagram.com/sanataevet/
Twitter:
Facebook:
Youtube Channel: https://www.youtube.com/c/TamerLeventofficial
E-Mail:
Tamer Levent Gallery