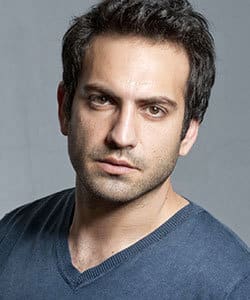 Profile
Name: Bugra Gulsoy
Birthdate: February 22, 1982
Birthplace: Ankara, Turkey
Height: 175 cm
Eye Color: Hazel
Hair Color: Black
Education: Eastern Mediterranean University Architecture (Dogu Akdeniz Universitesi Mimarlik Bolumu) (2004)
Talent Agency: Yasemin Ozbudun Talent Management
Spouse: Nilufer Gurbuz (m. 2018 – present); Burcu Kara (m. 2011 – 2012)
Biography: Bugra Gulsoy was born in February 22, 1982 in Ankara. He went to primary, secondary and high school in Ankara. While he was studying at Eastern Mediterranean University in Cyprus, he also took part in various theatre plays in Cyprus State Theatre. During that time, he worked as movie director or actor in various films including Trio, Heterotopya, Insan Ucleme, Alt Ust, Nar Yarasi and Mutlu Son. Bugra Gulsoy is one of founder members of Cyprus Film Association (Kibris Film Dernegi) and is a director and project designer of International Cyprus Short Film Festival (Uluslararasi Kibris Kisa Fim Festivali). Bugra Gulsoy started his acting career on TV with his role as Nazim in Turkish Drama Hepimiz Birimiz Icin. He became popular with his roles in Unforgettable and What is Fatmagul's Fault?
Bugra Gulsoy Tv Series / Movies
2008 – All For One (Hepimiz Birimiz Icin) (as Nazim Intizamoglu)
2009 – I Saw the Sun (Gunesi Gordum) (as Berat) (Movie)
2009 – 2010 Unforgettable (Unutulmaz) (as Tolga Altinsoy)
2010 – 2011 What is Fatmagul's Fault? (Fatmagul'un Sucu Ne?) (as Vural Namli)
2010 – Shadows and Faces (Golgeler ve Suretler) (as Ahmet) (Movie)
2011 – To Better Days (Guzel Gunler Gorecegiz) (as Cumali) (Movie)
2011 – 2013 North South (Kuzey Guney) (as Guney Tekinoglu)
2013 – 2014 Old Story (Eski Hikaye) (as Mete)
2014 – Sorrow (Bana Artik Hicran De) (as Sinan Erinc)
2015 – 2016 Love Once Again (Ask Yeniden) (as Fatih Sekercizade)
2016 – Sister-in-Law (Gorumce) (as Ahmet) (Movie)
2017 – Hot Sweet Sour (Aci Tatli Eksi) (as Murat) (Movie)
2017 – Inside (Mahalle) (as Omer) (Movie)
2017 – Foreigner at my Cell (Cebimdeki Yabanci) (as Kerem) (Movie)
2018 – 8th Day (8. Gun) (Ozan Tas)
2018 – 2019 Kizim (as Demir Gokturk)
2019 – Azize (as Kartal)
2020 – 2021 The Great Seljuks: Guardians of Justice (Uyanis: Buyuk Selcuklu) (as I. Melihsah)
2021 – The Guest (Misafir) (as Erdem Celebi)
Director:
2017 – Inside (Mahalle) (Movie)
Screen Writer:
2017 – Hot Sweet Sour (Aci Tatli Eksi) (Movie)
2017 – Inside (Mahalle) (Movie)
2017 – Time of Happiness (Mutluluk Zamani) (Movie)
Producer:
2017 – Inside (Mahalle) (Movie)
Social
Instagram: https://www.instagram.com/bugragulsoy/
Twitter: https://twitter.com/bugragulsoy
Facebook: https://www.facebook.com/BugraGulsoy/
E-Mail:
Bugra Gulsoy Gallery