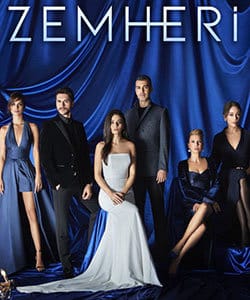 Details
Original Title: Zemheri
English Title: Love Storm
Also Known As: Winter
Genre: Romance, Drama
Episodes: 8+
Broadcast Network: Show Tv
Broadcast Period: January 15, 2020 –
Production Company: Ay Yapim
Director: Hilal Saral
Screen Writer: Sema Ergenekon
Filming Locations:
Synopsis
Firuze (Ayca Aysin Turan) is a young and beautiful girl who studies architecture at the university. She comes from a poor family; her mother Aliye (Zerrin Tekindor) works as a cleaning lady and her father Yasar (Mufit Kayacan) works as a construction worker. That's why, Firuze also works part-time after school and tries to support for his family.
While at school, Firuze bumps into Ayaz (Alperen Duymaz) out of pure coincidence. These two young persons get attracted to each other at first sight and become lovers.
Ayaz also comes from a poor family. He lives together with his younger brother, sister and mother. They need to change their house frequently and refrain from doing anything including posting on social media so that they could hide away from their father. Ayaz becomes the head of the family and tries to do his best to protect his family from his father's violence.

In a very short time, Firuze and Ayaz fall in love with each other and start to dream about getting married. They carry a family burden on their shoulders but they feel like they could become happy if they are together. With the strength of their love and trust towards each other, they decide to get married as soon as possible without waiting for graduation.
However, their fate separates them all of a sudden. When they are about to get married, Ayaz has to take a difficult decision: he would either choose his family or his lover.
One day, when Ayaz arrives at his home, he sees that his mother has killed his father during the fight. Ayaz wants to bear the blame on behalf of his mother in order to protect his family. Therefore, he makes a difficult decision and sacrifices his lover for the sake of his family just before he is about to get married.
In order to save his mother, Ayaz makes a deal with a powerful businessman Ertan (Caner Cindoruk): Ertan will save Ayaz's mother from going to the jail and in return, Ayaz will get engaged to Berrak (Hazal Filiz Kucukkose). Berrak is Ertan's younger sister who has some psychological problems. She has a platonic love towards Ayaz and wants to get married to him.
Ayaz has nothing to do but to accept this deal. Shouldering the responsibility of being the head of the family, he sacrifices his lover and disappears without a trace. Firuze, meanwhile, looks for Ayaz everywhere and tries to understand why he has left without saying good-bye. She waits 2 years and spends her time yearning for Ayaz.
Eventually, Firuze gives up and gets angry towards him for stealing her hopes. She decides to continue her life while trying to forget her first love.
After 2 years, the lives of Firuze and Ayaz intersect again.
Firuze's father is falsely accused in the elevator accident at the construction site even though he warns the company owner Ertan through a written petition. The death of thirteen construction workers due to the elevator accident highly captures media's interest.
In order to save the company image and get rid of this incident with a minimum damage, the owner Ertan decides to blame Firuze's father. For this reason, he removes the petition about the elevator and arranges false witnesses.
Firuze, on the other hand, finds herself in a very difficult situation. She does not accept hush money and tries to do her best to prove her father's innocence. When she understands that she cannot deal with the false witnesses at the court, she searches another way to prove the existence of the petition.
In order to reach her goal, she decides to start working at Ertan's company so that she could find video camera records showing her father's visit to the company at the day of elevator accident. In this journey, Firuze meets Ayaz who plays a vital role in the accusation of Firuze's father.
Love Storm (Zemheri) tv series story is about two young persons who love each other to death but get separated due to some unexpected incidents. Will Firuze manage to prove the innocence of her father? Will Firuze forgive Ayaz who has left her without saying good-bye? Will Ayaz get married to Berrak and sacrifice her love once again?
Love Storm (Zemheri) Tv Series Cast
Ayca Aysin Turan as Firuze
Alperen Duymaz as Ayaz
Caner Cindoruk as Ertan
Hazal Filiz Kucukkose as Berrak
Zerrin Tekindor as Aliye
Emir Cubukcu as Faruk
Nihal Koldas as Safiye
Mufit Kayacan as Yasar
Sebnem Donmez as Mehves
Aleyna Ozgecen as Elvan
Lila Gurmen as Iclal
External Links
Official Site: https://www.showtv.com.tr/dizi/tanitim/zemheri/2672
English Wikipedia:
Imdb:
You Might Also Like
Endless Love (Kara Sevda)
Love Storm (Zemheri) Tv Series Gallery
Love Storm (Zemheri) Tv Series Trailer (Eng Sub)
#Zemheri Love Storm (Zemheri) Tv Series Trailer (Eng Sub)