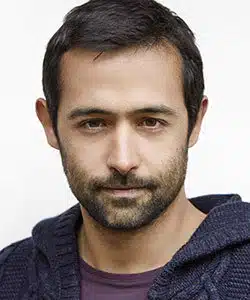 Profile
Name: Emir Cubukcu
Birthdate: September 28, 1990
Birthplace: Istanbul, Turkey
Height: 179 cm
Eye Color: Brown
Hair Color: Black
Education: Mimar Sinan University Fine Arts School (Mimar Sinan Guzel Sanatlar Universitesi Oyunculuk Bolumu)
Talent Agency:
Spouse:
Biography: Emir Cubukcu was born in 28 September 1990 in Istanbul. He founded theatre club named at D22 with his friends and took part in various theatre plays such as Karabatak, Bent and Yirmi Bes. He started his tv career with his role in popular Turkish drama Karadayi.
Emir Cubukcu Tv Series / Movies
2012 – 2015 Karadayi (as Osman Guney)
2013 – Incomplete Miracle (Yarim Kalan Mucize) (as Isyanci) (Movie)
2015 – White Night (Beyaz Gece) (as Burak)
2016 – 2017 Tell Me How to Love (Bana Sevmeyi Anlat) (as Burak Tugcu)
2017 – Dream (Ruya) (as Inan Ardali)
2018 – 2019 Gulperi (as Ali Taskin)
2019 – Askimizin Son Tekmesi (as Cetin) (Movie)
2020 – Love Storm (Zemheri) (as Faruk)
2020 – The Choice (Babil) (as Cihan)
2021 – Liar (Yalanci) (as Ahmet Bilgen)
Awards
Social
Instagram: https://www.instagram.com/emircubukcu1/
Twitter:
Facebook:
E-Mail:
Trivia
Body Type:
Skills:
Star Sign: Libra
Blood Type:
Hobbies:
Emir Cubukcu Gallery