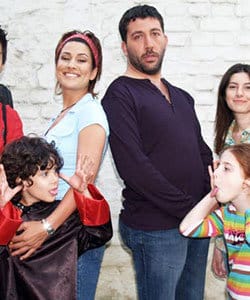 Details
Original Title:
Two Families
English Title:
Iki Aile
Also Known As:
Fetele tale, baietii mei (Romania), Semeen saraj (Bulgaria)
Genre:
Comedy
Episodes:
93
Broadcast Network:
Star TV
Broadcast Period:
June 19, 2006 – June 16, 2008
Production Company:
D Productions
Director:
Nursan Esenboga
,
Metin Gunay
,
Yildiz Hulya Bilban
Screen Writer:
Saygin Delibas
,
Fethi Kantarci
,
Barkin Senuren
Synopsis
Oguz (Emre Kinay) is a 45 years old man who owns an advertising agency. After his wife passed away years ago, he never gets married and lives happily together with his three daughters. His eldest daughter Damla (Bahar Yanilmaz) studies at medical school and tries to do her best to take care of her sisters. His second daughter Ceren (Ece Cesmioglu) goes to high school and is carefree unlike her elder sister. His youngest daughter Merve (Zeynep Ozkaya) goes to primary school.
Eda (Iclal Aydin), on the other hand, is a 35 years old woman who has divorced her husband upon his infidelity. She wants to start a new life with her two sons without getting any help from her ex-husband. Her eldest son Efe (Dogac Yildiz) goes to high school and still could not get used to the divorce of his parents. Her youngest son Timur (Akcahan Akca) goes to primary school and is torn between his mother and father. Eda wants to buy a house where she can live with her two sons in the upstairs while she can work at the downstairs as a pre-kindergarten caretaker.

Out of pure coincidence, different lives of these two persons intersect. Ferit (Oner Erkan) who lives in a big house in Istanbul has no choice but to sell the house which belongs to his father in order to pay his gambling debt. He uses his father's signature and sells the house to both Eda and Oguz at the same day.
Without knowing this fact, Eda and Oguz finalize their preparations and dream to live happily in their new houses. They move in to their new houses at the same day and realize that they are both deceived by Ferit.
Eda does not want to leave the house because she has given all her savings for this house. She has nowhere to go. Oguz, on the other hand, does not want to leave this house because he spent all his childhood there. He does not want to give up all his childhood memories to the woman whom he does not know. For this reason, they are determined not to leave the house until they find Ferit and correct all this chaos.
Two families start to live at the same house without knowing each other. Oguz and his daughters settle into the upstairs while Eda and his sons settle into the downstairs. They have to share the kitchen area though. It will not be easy because Eda and Oguz fight like cats and dogs all the time, they are both stubborn and never take steps backward. At the same time, children quarrel generally and try to send the other side away.
In Two Families (Iki Aile) tv series story, you will watch a cozy family relations together with romance. Will Eda and Oguz find a solution for this chaos and eventually find Ferit? Who will get the house at the end? Will children get used to living together and start to live happily without any dispute?
Two Families (Iki Aile) Tv Series Cast
Emre Kinay as Oguz
Iclal Aydin as Eda
Oner Erkan as Ferit
Didem Uzel as Serpil
Hakan Vanli as Yaman
Bahar Yanilmaz as Damla
Dogac Yildiz as Efe
Zeynep Ozkaya as Merve
Akcahan Akca as Timur
Ece Cesmioglu as Ceren
Halit Akcatepe as Numan
Mehmetcan Mincizoglu as Arda
Senay Kosem as Oya
External Links
Official Site: http://www.dproductions.com.tr/diziler/arsiv/iki-aile
English Wikipedia:
Imdb:
You Might Also Like
Dear Family (Canim Ailem)
Second Spring (Ikinci Bahar)
Two Families (Iki Aile) Tv Series Gallery