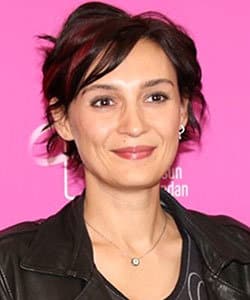 Profile
Name:
Sema Ergenekon
Birthdate:
April 9, 1977
Birthplace:
Afyonkarahisar, Turkey
Education:
Ankara University Faculty of Languages History and Geography – Theatre Department – Screenwriting (Ankara Universitesi Dil ve Tarih Cografya Fakultesi Tiyatro Bolumu Dramatik Yazarlik)
Spouse:
Ugur Aslan
Biography:
Sema Ergenekon was born in 9 April 1977. She met her husband Ugur Arslan while she was studying at Ankara University and got married to him after 6 years from graduation. After graduating from Ankara University, she started to write scripts together with her classmate Eylem Canpolat. While they were unemployed for a while, they sent away their scripts to many directors and screenwriters. Eventually, Sema Ergenekon and Eylem Canbolat were discovered by popular screenwriter Mahinur Ergun.
Screenwriter
2005 – Fullmoon (Dolunay) (Tv Series)
2005 – 2007 Gumus (Tv Series)
2005 – Open the Doors (Kapilari Acmak) (Tv Series)
2006 – 2007 Coming Home (Sila) (Tv Series)
2006 – Iyi ki Varsin (Tv Series)
2007 – Other Than You (Senden Baska) (Tv Series)
2008 – Derdest (Tv Series)
2008 – 2009 Angles Bless You (Melekler Korusun) (Tv Series)
2009 – Head of Family (Aile Reisi) (Tv Series)
2011 – 2013 The Tulip Age (Lale Devri) (Tv Series)
2010 – 2013 Love in the Sky (Yer Gok Ask) (Tv Series)
2012 – 2014 Karadayi (Tv Series)
2013 – 2015 Black Rose (Karagul) (Tv Series)
2014 – 2016 Black Money Love (Kara Para Ask) (Tv Series)
2014 – Overturn (Sevdam Alabora) (Tv Series)
2017 – Kara Yazi (Tv Series)
2017 – I Gave You My Heart (Sana Kalbimi Verdim) (Tv Series)
2017 – 2018 Black and White Love (Siyah Beyaz Ask) (Tv Series)
2018 – 2019 Gulperi (Tv Series)
Producer
2017 – Kara Yazi (Tv Series)
Actress
2018 – 2019 Gulperi (Tv Series)
Awards
2014 – 14. Golden Butterfly Tv Stars Awards (14. Altin Kelebek Tv Yildizlari Odulleri) – Best Screenwriter (Karadayi) – En iyi senaryo yazari (Karadayi)
Social
Instagram: https://www.instagram.com/semaergenekon/
Twitter: https://twitter.com/semaergenekonn
Facebook:
E-Mail: