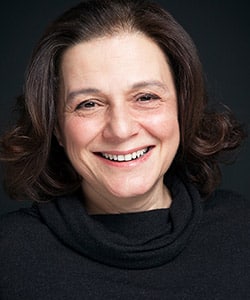 Profile
Name: Nihal Geyran Koldas
Birthdate: August 22, 1956
Birthplace: Ankara, Turkey
Height: 165 cm
Eye Color: Brown
Hair Color: Brown
Education: Mimar Sinan University Department of Performing and Visual Arts (Mimar Sinan Universitesi Sahne ve Goruntu Sanatlari Bolumu)
Talent Agency: Icon Talent Management
Spouse:
Biography: Nihal Koldas was born in 1 January 1956 in Ankara. She is actress, scriptwriter, director of theatre plays, dramaturgist, and interpreter. She also worked as décor and costume designer and art director in cinema and TV films. Nihal Koldas shared the director's chair with Zeki Demirkubuz in Innocence (Masumiyet) and gained attention in the same film as Yusuf's mute sister. She is one of the founders of the Theatre Workshop Society (Bilsak Tiyatro Atolyesi Toplulugu). In 2001, she founded the Maya Stage (Maya Sahnesi) together with Metin Deniz.

Nihal Koldas Tv Series / Movies
1989 – Cahide
1997 – Innocence (Masumiyet) (Movie)
2007 – 2008 Knife Edge (Bicak Sirti) (as Gonul)
2009 – Guldunya (as Safiye Guclu)
2009 – Envy (Kiskanmak) (as Nuriye) (Movie)
2009 – Game of Justice (Adalet Oyunu) (as Gulcan) (Movie)
2010 – Majority (Cogunluk) (as Nazan) (Movie)
2010 – Intersection (Kavsak) (Movie)
2012 – Co-wife (Kuma) (as Fatma) (Movie)
2013 – L.O.V.E. (A.S.K.) (as Sirma)
2014 – Spirit of Dust (Toz Ruhu) (as Suzan) (Movie)
2014 – 2015 Buddy Istanbul (Ulan Istanbul) (as Nezaket)
2015 – A Sea Story (Bir Deniz Hikayesi) (as Sidika)
2015 – Mustang (Movie)
2015 – Motherland (Ana Yurdu) (as Halise) (Movie)
2016 – 2017 Insider (Icerde) (as Fusun)
2018 – Tuzdan Kaide (Movie)
2018 – Kardesler (as Mother)
2018 – Aglama Anne (as Necmiye)
2019 – Kucuk Seyler (as Sukran) (Movie)
2020 – Love Storm (Zemheri) (as Safiye)
2020 – Ethos (Bir Baskadir) (as Sinan's Mother)
2021 – House of Lies (Kagit Ev) (as Gulsum Yilmaz)
2021 – Defendant (Mahkum) (as Tomris Yesari)
Awards
2011 – 43. Sinema Yazarlari Dernegi Odulleri – En Iyi Yardimci Kadin Oyuncu Performansi (Cogunluk)
Theatre Plays
1989 – Iste Bas, Iste Govde, Iste Kanatlar
1992 – Gitmeden Once
1997 – Park Yapilmaz
1999 – Kurbaga Oykuleri
2006 – Beckett Gri Mavi
2006 – Ay, Ask, Olum
2008 – Albay Kus
2008 – Zaman Asimi 1 – Diller de Gunahkar
2011 – Beraber ve Solo Sarkilar
2013 – Evaristo
2013 – Tik… Tikidi… Tikilap
2016 – Baba ve Pic
2017 – Kabil'de Bir Ev Kadini
2019 – Git Gel Dolap
2019 – Babaannemin Masali
2021 – Nora 2
Gallery