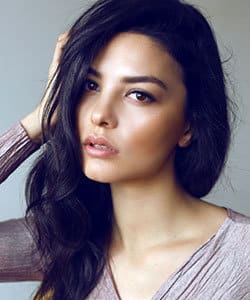 Profile
Name: Hazal Filiz Kucukkose
Birthdate: February 9, 1988
Birthplace: Mersin, Turkey
Height: 172 cm
Eye Color: Brown
Hair Color: Black
Education: Ankara University – Chemistry (Ankara Universitesi Kimya Bolumu)
Talent Agency: Ahmet Koralturk
Spouse: Tuan Tunali (m. 2014–2018)
Biography: Hazal Filiz Kucukkose was born in 9 February 1988 in Mersin. She went to high school in Ankara and studied biology at Kirikkale University. However, she dropped out the school at her third year. After then, she started to study chemistry at Ankara University. She made her debut with her role in Daily turkish series Star Fish (Deniz Yildizi). Hazal Filiz Kucukkose also took part in popular Turkish drama Endless Love (Kara Sevda) and became very popular with her role as Zeynep.
Hazal Filiz Kucukkose Tv Series / Movies
2009 – 2012 Star Fish (Deniz Yildizi) (as Gozde)
2011 – Forgive Me (Beni Affet) (as Leyla Adali)
2011 – My Heart Chose You (Kalbim Seni Secti) (as Ada)
2012 – Ustura Kemal (as Kalisto)
2012 – Cliff (Ucurum)
2014 – Sinner (Gunahkar) (as Aslihan)
2015 – 2017 Endless Love (Kara Sevda) (as Zeynep Soydere)
2017 – Dream (Ruya) (as Elif)
2018 – Conqueror Mehmed (Mehmed: Bir Cihan Fatihi) (as Melike)
2020 – Love Storm (Zemheri) (as Berrak)

Awards
2016 – KKTC Magazine Journalists Awards (KKTC Magazin Gazatecileri Odulleri)– Best actress in supporting role (Endless Love) – En iyi yardimci kadin oyuncu (Kara Sevda)
2016 – KTU 8. Media Awards (KTU 8. Medya Odulleri) – Best New Actress (Endless Love) – En iyi cikiş yapan kadin oyuncu (Kara Sevda)
2017 – Pantene Golden Butterfly Awards (Pantene Altin Kelebek Odulleri) – Breakout Star (Endless Love) – Yildizi parlayanlar (Kara Sevda)
2018 – IGU 7. Media Awards (IGU 7. Medya Odulleri) – Breakout Star in 2017 (Endless Love) – 2017'de Yildizi Parlayan (Kara Sevda)
Social
Instagram: https://www.instagram.com/hazalfilizkucukkose/
Twitter: https://twitter.com/hazalfkucukkose
Facebook: https://www.facebook.com/hazalfilizkucukkose/
Personal Web Site: http://www.hazalfilizkucukkose.com/
Trivia
Body Type:
Skills:
Star Sign:
Blood Type:
Hobbies:
Hazal Filiz Kucukkose Gallery