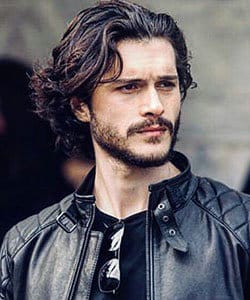 Profile
Name: Alperen Duymaz
Birthdate: November 3, 1992
Birthplace: Ankara, Turkey
Height: 184 cm
Weight: 73 kg
Eye Color: Brown
Hair Color: Black
Education: Hacettepe Universitesi Ankara State Conservatory (Hacettepe Universitesi Ankara Devlet Konservatuari)
Talent Agency: Cem Tatlitug Agency
Spouse: Kubra Kelkit (m. 2020-present)
Biography: Alperen Duymaz was born in 3 November 1992 in Ankara. He started his career as a model and took part in various tv commercials. He made his debut with his role in youth Turkish tv series Pretty Little Liars (Tatli Kucuk Yalancilar). After then, he became one of the lead characters in Turkish tv series Bodrum Fairytale (Bodrum Masali).
Alperen Duymaz Tv Series / Movies
2015 – Bitter Love (Aci Ask) (as Ali Koklukaya)
2015 – Pretty Little Liars (Tatli Kucuk Yalancilar) (as Cesur)
2016 – 2017 Bodrum Fairytale (Bodrum Masali) (as Ates Erguven)
2017 – Resurrection Karatay (Direnis Karatay) (as Kutay) (Movie)
2017 – 2018 The Pit (Cukur) (as Emrah Amir)
2018 – 2019 Crash (Carpisma) (as Kerem Korkmaz)
2020 – Love Storm (Zemheri) (as Ayaz)
2021 – Last Summer (Son Yaz) (as Akgun Gokalp Taskin)
Social
Instagram: https://www.instagram.com/alperenduymaz/
Twitter: https://twitter.com/DuymazAlperen
Facebook:
E-Mail:
Alperen Duymaz Gallery