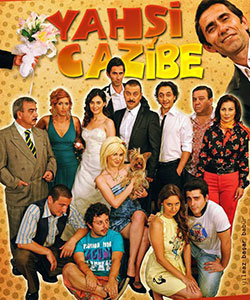 Details
Original Title: Yahsi Cazibe
English Title: Marry Me
Also Known As:
Genre: Comedy, Romance
Episodes: 93
Broadcast Network: ATV
Broadcast Period: July 16, 2010 – June 16, 2012
Production Company: Surec Film
Director: Bora Onur
Screen Writer: Gani Mujde
Synopsis
Cazibe (Aslihan Gurbuz) is an Azeri woman who immigrates to Turkey. She decides to have an arranged marriage with a Turkish citizen in order to get a work permit. This marriage would be on paper and would last for 3 years according to the agreement.
With the help of a matchmaker, Cazibe finds a man in financial trouble. Kemal (Hakan Yilmaz) is a Turkish citizen who works at importing company but has financial problems. Kemal decides to get married to Cazibe so as to get a substantial payment in return. He does not meet Cazibe before marriage and sees her at his wedding day.
Kemal and Cazibe get married and agree to stay married for three years. They think that they would not see each other again and this marriage would be on paper. However, nothing works out as planned.

The Chief Constable Peker (Peker Acikalin) from the Immigration Department is commissioned to investigate the couple and determine whether their marriage is real or illegal. In order to persuade the Chief Constable Peker that their marriage is real, Kemal and Cazibe have no choice but to live together for a while.
They believe that they can convince Peker easily by pretending a lovely married couple. However, Peker also starts to live at the same apartment where Kemal and Cazibe live and appears in an unexpected way with various schemes.
Kemal and Cazibe have to be alert all the time in order not to reveal the truth about their marriage. Since they have different characters, they discuss all the time but they pretend to be a happy married couple.
At the same time, Kemal has to deal with his girlfriend Simge (Hande Katipoglu) and hide this arranged marriage. When his girlfriend arrives, Cazibe pretends to be a servant at the house.
In marry me (yahsi cazibe) tv series story, you will explore the comic story of a Turkish citizen and an Azeri woman who make an arranged marriage and pretend to be married. Will Cazibe and Kemal manage to persuade the investigators that their marriage is real? Will Simge learn that her boyfriend has married to another woman? Will Kemal continue to be with Simge or start to love Cazibe? Will this illegal marriage turn out to be a real marriage?
Marry Me (Yahsi Cazibe) Tv Series Cast
Aslihan Gurbuz as Cazibe
Hakan Yilmaz as Kemal
Hande Katipoglu as Simge
Gokce Ozyol as Baris
Peker Acikalin as Peker
Selda Ozbek as Manidar
Canan Makdal as Nazli
Sezai Aydin as Hulusi
Serhan Arslan as Erdogan
Serhat Ozcan as Medeni
Eray Turk as Mahsun
Mert Can as Sevimli
Belma Canciger as Makbule
Sinan Caliskanoglu as Ejder
Erdal Turkmen as Ziverbey
Inci Pars as Tutkunaz
Bilgehan Sezer as Gokberk
Bekir Aksoy as Goksen
External Links
Official Site: https://www.atv.com.tr/webtv/yahsi-cazibe/bolum
English Wikipedia: https://en.wikipedia.org/wiki/Yahşi_Cazibe
Imdb: http://www.imdb.com/title/tt1807860/
You Might Also Like
Made in Turkey (Turk Mali)
Don't Let Children Know (Cocuklar Duymasin)
Gallery